It's happened to almost everyone: The lights are off and you're at home, where a power outage has rendered most devices in your house useless.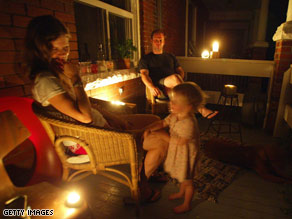 Blackouts don't have to leave you powerless.
Tens of thousands of people from the Pacific Northwest to the Northeast were reminded of those dark times this past week when winter storms caused massive power outages. CNN.com spoke with residents who spent days in the dark and asked them the question: "What are you doing to occupy your time?"
For the most part, people told us they were keeping busy and waiting for the power to come back on. For some, a day or two away from buzzing cell phones and ringing fax machines is a well-needed break.
But for others, a day without power is a day out of work. So what's a technophile to do when the power's out? Find a new energy source. Here are some suggestions:
Portable Chargers: It's a new era in the battle to keep your battery charged, thanks to portable chargers available from companies like Energizer and Duracell. They're travel sized battery packs that can recharge your cell phone, PDA and iPod. You simply slide two AA batteries into the pack and charge your wireless device. Once you're re-charged you can get back to listening to music, writing e-mails or calling the power company to see when service will be restored.
DC/AC Inverters: This gadget may be familiar to RV users or those who make long road trips. Depending on your model, these boxes convert the power from your car into power you can use for things like charging up your laptop or watching TV. You plug one end into your cigarette lighter and plug your device into the outlet on the other end. They're made by several different companies and can be found at most electronics stores starting around $20.
Hand Crank Devices: A low-tech power source for high-tech gadgets. Hand crank devices work just like normally powered ones, as long as you're willing to work for the power. There are several different devices ranging from crank flashlights to crank radios. The best part is, you never have to worry about having batteries. A tip: many of the best hand crank gadgets can be found in the camping section at outdoor-supply stores.
Solar Panels: As solar power becomes more common, more homeowners are installing small-scale solar panels to power anything from outdoor lights to indoor water heaters. The panels can collect energy during the day to keep lights on even when the power is off at night. Some hardware stores are also jumping on the solar bandwagon and providing installation services.
There you have it - my tips and tricks for beating a blackout. Each idea has its advantages and drawbacks. Portable chargers can be expensive and hand cranks can be time consuming. Solar panels are great, but if you're stuck in a snowstorm, you'll have to keep the panels free of snow to keep them generating power.
The best way to determine what's right for you is to plan ahead. Go ahead and try out the products before you need them. That way when you do, you'll have the right gadget for the right time.
Here's to beating that dreaded "low battery" message.
–Brandon Ancil, CNN.com
Filed under: technology