Apple just unveiled its latest round of toys today before an excited crowd at the Macworld Conference & Expo -  personally, I think the update with the biggest "cool" factor is the new iPhoto.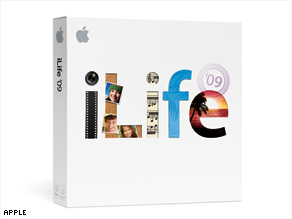 The photo library app is introducing face-recognition software called "Faces." Once you identify your friends and family, iPhoto will be able to sort the rest of your photos according to who is in them.
In addition to Faces, "Places" will sort your photos according to where they were taken. This will be particularly handy for users with an iPhone 3G - which adds geographical data to your photos using the integrated GPS. Some new cameras also have the ability to "geo-tag" photos, which can then be used to sort pictures in iPhoto.
Don't have a fancy camera with geo-tagging abilities? That's fine - iPhoto uses Google Maps, allowing users to tag old photos with location data.
iMovie also got an update - a big one. "We decided to completely rewrite iMovie and come up with a whole new version," Apple Vice President Philip Schiller said Tuesday during the keynote.
The new features will focus on ease of use, with enhanced audio editing features, smoother transitions and new video stabilization.
iPhoto and iMovie will be included in the new iLife '09 - set to ship later this month.
Of course, it wasn't just iLife '09 - a new iWork, a new MacBook Pro, and a new iTunes price structure were all announced.
What new Apple product are you excited about? Was there something you wanted to see, but didn't? Sound off in the comments.
Posted by: Sean O'Key -- CNN.com Associate Producer
Filed under: Apple • computers