One of the most exciting tidbits from Tuesday's MacWorld keynote for me was the announcement of the move toward DRM-free (digital rights managed) music on the iTunes store –- and, more interestingly, the ability to upgrade your current purchased music to a DRM-free format.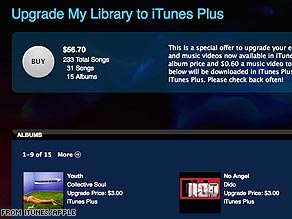 If you want to remove the DRM from your iTunes purchases, it's all or nothing.
As I've admitted before, I'm a fully entrenched Apple fanboy.  Thus my music player is an iPod and the music I've purchased online is from the iTunes store.  That is a very limited amount of my music –- as I never liked the prospect of "renting" my music, having it locked into a particular format –- especially when I could get the CD and rip it into the quality and format of my choice for my digital devices -– and have the ability to re-encode it if necessary.
So, how do I upgrade my music?  On Wednesday a link appeared on the iTunes store (in the "Quick Links" area in the upper left corner) that says just that: "Upgrade My Library." Clicking on it takes you to a screen that shows you how many songs are eligible for the upgrade.
In my case, it's 233 songs (more than I thought), which includes about 15 albums, for a charge of $56.70.
Am I gonna do it?  Maybe, maybe not.  First off – it's an all or nothing deal — you can't just pick your favorites and leave all the junk you bought to rot in the DRM wasteland.  Also, I have to agree with friends, colleagues and Internet commenters who think this should be free –- or at the very least cheaper -– with a bigger discount for larger libraries.  On the other hand, as one of my good friends pointed out, 30 cents is much cheaper than if you had to buy the whole thing again, like many of us did when updating our libraries from cassette or vinyl to CD.
So in the end, "Yay!" to the death of DRM on iTunes, and a resounding "meh" on the paying more to get my music in the way it should have been to begin with.  What are you guys gonna do?
Posted by: Cody McCloy
Filed under: Apple • DRM • Music