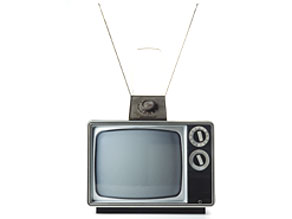 If your TV looks like this, pay attention!
So, February 17 is looming. You know, the date when our boring old analog signals are supposed to turn into 1s and 0s and go digital. You know what I'm talking about, right? You've seen the commercials all over the TV, I know you have. Right?
Still clueless? You're not alone.
Digital basically means that: digital vs. an analog signal. Think cassette vs. CD. It doesn't mean HD. Also, it's over the air only, so if you have cable you don't have to worry about it. (Don't listen if some undereducated or shifty customer-service rep uses the digital TV switchover as an excuse to badger you into buying an HD set-top box.)
If you have cable or satellite TV or already have a set-top box (unfortunately, Tivo's don't always count – check here for more info), you're covered. There's no need to go out and get anything. Also, if your TV is relatively new it's digital-ready, so you're automatically covered.
So who needs to worry? People who get their TV signals off any sort of antenna, bunny ears or aerial, should pay attention. You're the folks this switchover is aimed at. If your TV isn't equipped with a digital tuner (ATSC), you'll need a converter box.
Here's the next problem: The program that was giving out coupons for these boxes? They're out of money. I suspect this is because people had no clue whether they needed a box or not and got one, "just in case." (I know some people out there who claim to be tech-savvy and did exactly that.)
All this confusion has lead President Obama to ask Congress to delay the switchover until June, which some say will lead to even more confusion. The House disagreed, saying the switchover should take place in February as scheduled. Just to muddy the waters even more, there are plans for another House vote on the matter next week.
Still confused?? If so, you're not alone. And if this didn't help, here are some handy tools to help you figure it out:
FCC's fact page on DTV
DTV.gov – FCC's tranisition Web site
CNET explains the switchover
If you've found a handy widget you think explains all this better, please feel free to post it in the comments.
- Cody McCloy, CNN.com
Posted by: Cody McCloy
Filed under: television