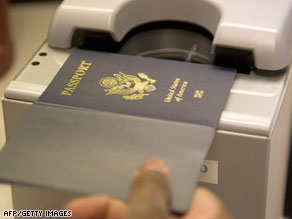 U.S. passports issued since August 2007 contain an RFID chip.
So last week I saw this post on Gizmodo about this dude who rigged up an RFID reader and an antenna and drove around looking to clone the chip in people's passports.
The scary part? It worked, and quite easily.
Using radio waves, a RFID reader collects electronic data encoded in tags attached to products or people, such as the chips that marathon runners wear to record their race times.
Of course, what a thief could actually do with other people's passport information will be open for debate.
But it still begs the question: Why do I need this chip in my passport? Supposedly it's to help make the process of checking for terrorists quicker. But if the number is so easily cloned, doesn't that defeat the purpose?
You can read the State Departments FAQ on the RFID-equipped passports here.
Can't wait to hear what you guys think about this.
Posted by: Cody McCloy
Filed under: RFID • technology