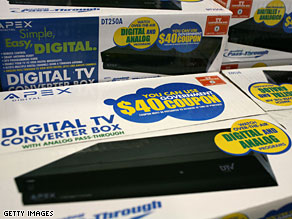 The date for the switchover was February 17th, then was pushed back to June, but some stations will still be switching early.
Since we last chatted about the DTV switchover
there's been some new developments –- the biggest of which being its postponement to June. Then nearly 500 stations told the FCC they want to go ahead and change to digital signals on the original February 17 switchover date. And now the FCC has rejected a quarter of those requests.
According to the latest TV Week article, the FCC is concerned with markets where all the major network affiliates wanted to switch early, leaving those unprepared for the change without news or emergency alerts.
So if you weren't confused about the deadline before, there's even more to muddy the waters now.
Your comments on my previous DTV post were very informative - especially the issue of digital signals not reaching as far as their analog counterparts - and I'm sure I'll get even more new perspective on this issue from what you have to say today.
Posted by: Cody McCloy
Filed under: Politics • television