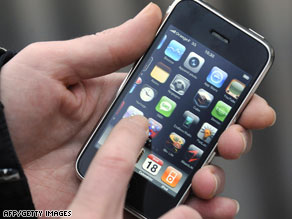 Well probably not jail – but if Apple has its way, in some sort of legal trouble.  I saw this over at Wired's Threat Level blog. Apparently Apple is asserting that hacking the phone to run non-approved applications violates the Digital Millennium Copyright Act.
Jailbreaking is a process that opens up the iPhone's or iPod Touch's OS to installing applications not purchased or downloaded from Apple's official application store.
This means you can get apps that do things like allow you to use your iPhone as a 3G modem for your laptop – or a host of other things that Apple and AT&T don't approve of. Jailbroken phones also can be moved from AT&T to other wireless carriers.
If you want to read Apple's comments on the matter, check out this 31-page PDF.
Apple has always been very keen on protecting its property - some would say to the point of being a bully. In this case, it puts the company up against a community of software developers and users who would prefer everything to be open.
(For the record, I haven't jailbroken my iPhone – but I do see the attraction. I mainly don't want to deal with the issues that hacking my phone might have on its functionality.)
So here's the question: Since Apple built the iPhone, should they be able to tell you what you can and can't do once you've bought it? Or are we merely renting this device along with our AT&T service plan?
Posted by: Cody McCloy
Filed under: Apple • iPhone