ST. AUGUSTINE, Florida - Katie Jackson has one of those jobs that must be fun to explain at a cocktail party: She uses a crossbow to fire darts at endangered whales.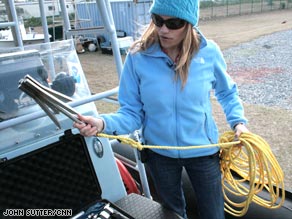 When right whales become entangled in fishing rope, Katie Jackson and crew throw grappling hooks from a boat to try to disentangled the endangered mammals.
The marine mammal biologist with the Florida Fish and Wildlife Conservation Commission uses her sharpshooting skills to try to protect the North Atlantic right whale, which, with a population of only 400, is thought to be the most endangered large whale in the world.
This time of year, the whales are giving birth off the coast of north Florida and Georgia (see CNN.com story here).
After new calves are born, Katie and crew are close behind in a boat. She fires a crossbow dart at the rump of the baby whales, which already weigh a ton. The hollow point of the dart removes a chunk of tissue scientists use to learn about the genetics of each whale.
Katie says the darts don't hurt the whales. They feel about like a paper cut would to a human.
The genetic samples are important, she says, because not much is known about right whales. The information helps researchers set up family trees for the whales. They also use the close encounters as a rare chance to observe the right whales' habits.
So far, scientists are on track to see a record number of new calves this year. The birthing season comes to a close at the end of March.
But scientists also are seeing more right whales entangled in fishing rope. The ropes restrict their movements and can cause cuts and infections that kill the whales. Katie's team also works to free entangled whales. From the front of an inflatable boat, she and other scientists toss grappling hooks toward the whales, hoping to catch and then remove the lines that threaten to kill them.
- John Sutter, CNN.com
Filed under: Animals • environment