Transparency seems to be all the rage on Capitol Hill these days. And what better way for Congress to connect directly with constituents than through Twitter, the free social-messaging site?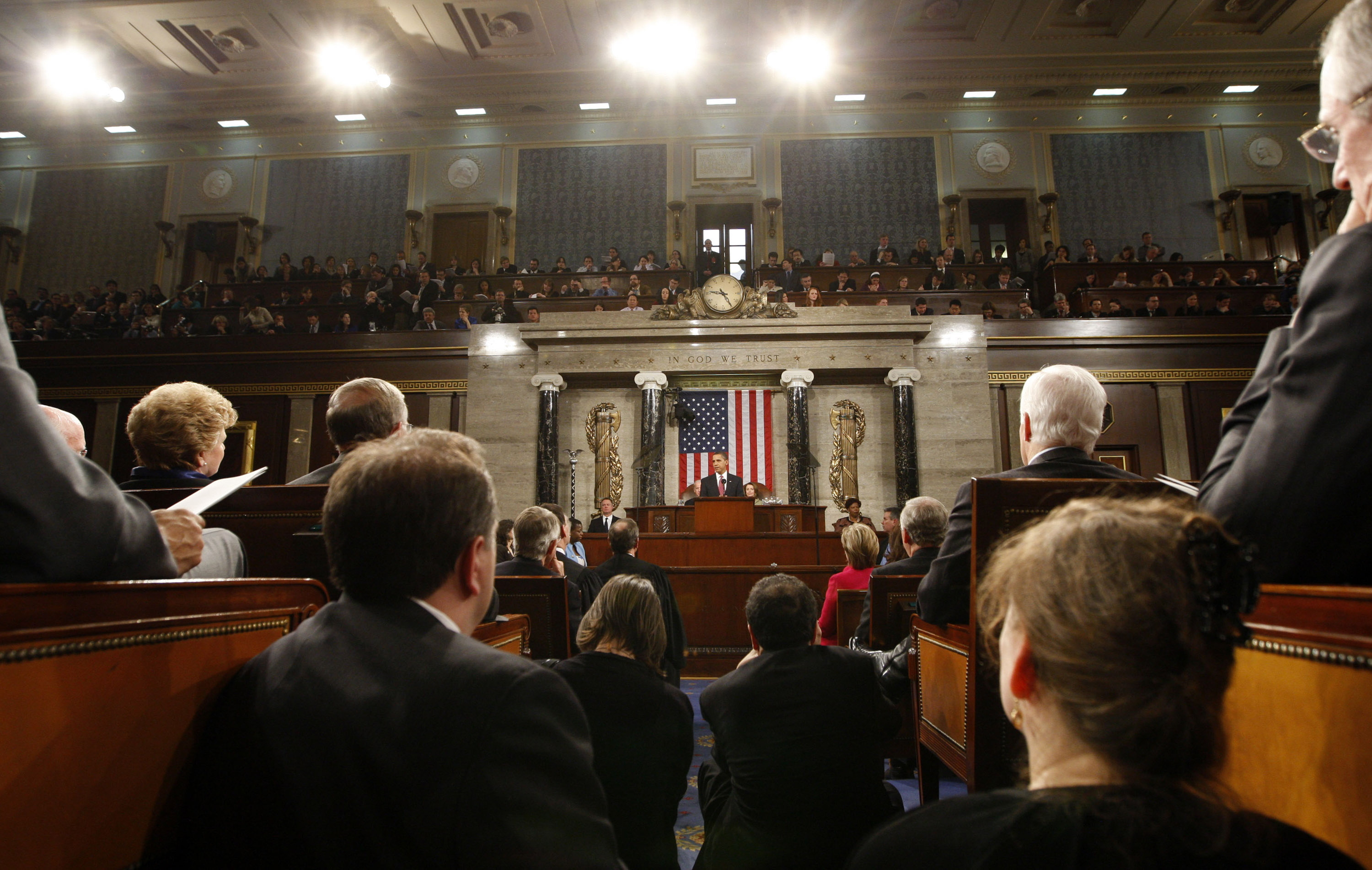 Members of Congress listen to President Obama's address Tuesday night. Some Twittered during the speech. Photo: Getty Images.
As I began following the 100 or so members who currently use Twitter through a site called http://tweetcongress.org, I found the Democrat-to-Republican tweeting ratio a bit surprising. There are only 29 Democrats tweeting compared to 57 or so Republicans.
As we saw in the last election campaign, Democrats have a reputation as being hipper and more plugged-in than their GOP counterparts. So are Republicans now trying to drum up support with the tech-savvy crowd through this hot medium that seems to be spreading like wildfire?
Twitter gives the public a sense of what's happening in now in the halls of Congress. It's like a real-time backstage pass to Capitol Hill. We elected these people to do a job, and Twitter gives us a way to connect with them more directly than ever.
During President Obama's speech Tuesday night to the joint session of Congress, Texas Republican congressman John Culberson posted, "This is always an awe-inspiring experience no matter who is President," and "Capt Sully is here - awesome!" These personal messages give us a behind-the-scenes look at how our government works, humanize our elected leaders and avoid the cumbersome rhetoric that we find in formal congressional correspondence.
However, there are a handful of potential pitfalls in congressional tweeting, which might be why not every senator or congressman has jumped on the Twitter bandwagon. There are no Twitter filters or copy editors, and once a tweet is out there, there is no turning back. This can be a dicey prospect for a politician.
During President Obama's speech, one such tweet slipped through the cracks for congressman Joe Barton, another Texas Republican, who Twittered, "Aggie basketball game is about to start on espn2 for those of you that aren't going to bother watching Pelosi smirk for the next hour."
Oops! Several minutes later another message followed, saying, "Disregard that last tweet from a staffer." Insert tweet in mouth.
So, should there be some filter or editor to protect our congressmen from themselves? Or can we benefit from these raw, unpolished glimpses at our elected representatives? Let us know what you think!
- Callie Carmichael, CNN.com
Filed under: Internet • Politics