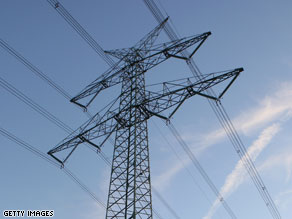 The latest buzzword on the energy forefront is "smart grid."  You may have seen the GE commercial featuring a re-worked scarecrow from the "Wizard of Oz" touting smart-grid products that promise to save you money, help keep the world green and make pink bunnies grow like wildflowers in your yard (well maybe not – but they do promise a lot).
There was a House subcommittee hearing this week on this very subject. And an article today on CNN.com.
So what does it all mean?  The technology GE is promoting is basically two-way communication between your electronic appliances, the outlets and the power company.  This will allow you and them better control over how and when you use electricity.  And in theory, the more control you have, the more efficient you can be.
All of that is very cool, but it's a long way away.  For one thing, our current power grid (the one that actually brings electricity to you from the power plant) isn't really set up to transmit energy from alternative sources such as rural solar or wind farms to far-away population centers.
Our current system is built around centralized power plants delivering energy to nearby areas. What we need to take full advantage of wind and solar power is a whole new grid - a decentralized one that can move power easily from one place to another. 
That won't come quickly, easily or cheaply.  It's one of the more expensive parts of T. Boone Pickens' plan, and many say it will take trillions of dollars and at least a decade to finish.  Oh yeah, and our national grid is actually made up of several grids loosely tied together and owned by privately held consortiums - so it will take an act of Congress to get this done.
So what next?  It seems our country is a bit adverse to paying for infrastructure; we know we need it, but it's not a new and shiny gizmo waiting in our living room for us to play with.  For real progress to take place, we need to realize how important these improvements will be to our future.
Here's a collection of links and articles I found interesting on this topic:
New York Times: Wind Energy Bumps Into Power Grid's Limits
DOE FAQ (who owns the power grid)
As always, I can't wait to hear your thoughts on this matter.
Posted by: Cody McCloy
Filed under: Energy • environment