Twitter users: I'll be the first to admit that all of the "#" signs on the social media site confuse the heck out of me. You may have noticed them. They often appear at the end of user updates. Like in this example from this morning: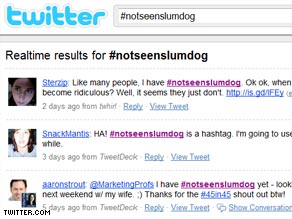 A slew of new hashtags are popping up on Twitter, including #notseenslumdog, shown here.

That blip at the end of my example - "#job" - is called a hashtag, and it's one of the best ways yet to categorize posts on Twitter. So, if you were looking for a job, or wanted news about jobs, you could search for the "#job" hashtag and come up with what people all over the world are saying on the topic.
Another cool example is #sxsw, which marks posts about the upcoming South by Southwest film and music festival in Austin, Texas. If you check out that thread now, people are talking about the difficulties of booking hotel rooms and what their plans are for the shows. This could be helpful for an out-of-towner who wants to get a local feel for what's going on.
As Gahran notes, hashtags are a way to make your posts visible to people who don't already follow your updates on the site. In the event of breaking news, journalists also use them to get a feel for what's happening.
But, there's always a hitch. Gahran writes:
The catch is that

hashtags are often cryptic

— usually because they work best when they're as brief as possible. So you might stumble across an interesting-sounding tweet containing a hashtag like

#wci

,

#plurk

, or

#tpb

and wonder about its context. Although you can follow a hashtag easily with tools like

Twitter Search

,

Hashtags.org

,

Tweetdeck

, or

Twitterfall

(which

Paul Bradshaw recommended

yesterday in Tidbits), those tools don't easily tell you what a given hashtag means.
Not everyone is thrilled with the trend, as Dave Coustan writes on his blog,
Extraface
:
Explained in less than 140 characters: What's #irritating about #this sentence?

It kind of looks like a representation of someone with food in their mouth while they talk.
Have fun hashing all that out. Feel free to ask questions in the comments.
- John D. Sutter, CNN.com
Filed under: social-networking sites • technology