As you may have read, the Obamas are planting a vegetable garden. Seem like big news? Perhaps not, but I have a feeling one reason this tidbit is currently the No. 1 read story on the NYTimes homepage is that many Americans are itching for a lost connection to the land and the outdoors.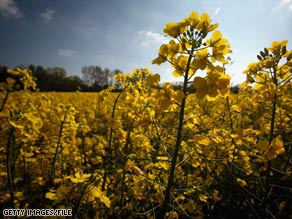 Some see the organic garden as a distraction from Obama's gaffe over the Special Olympics or the ever-present AIG bonus debate, but it seems like it also hits on something larger.
Just take a look at what iReporters are saying about what they've learned from past generations about saving money and fending for themselves. (Post your 'victory garden' stories here). Many bring up gardens. And, in a recent interview with a four-generation family, younger members talked about how they wish they had the same survival skills their grandparents did. Gardening is chief among them.
I'm no master gardener. I tried for the first time last year: the jalapenos and Roma tomatoes were delicious, but mostly were overshadowed by the hip-high weeds that I let grow up between them most of the summer. But it was fun to try.
So, in that spirit, here are a couple tips for trying out your green thumb and learning a bit of science this season:
1. Become a volunteer scientists: Hoards of backyard scientists across the country again are participating in Project BudBurst. Check out their Web site and be part of a group effort to map the blooming of plants. Your small effort can help scientists track big trends, like climate change.
2. Learn about your local environment: Check out this USA Today story on planting maps - they're changing, perhaps because of global warming. Learn what the climate is like in your area to better understand what will grow and when.
3. Find local food: Across the country people are banding together and sharing resources to get fresh food locally. Some join food coops, others, like guerrilla gardeners, take over public spaces to make group gardens. Local farmers' markets are another option.
Feel free to share you stories in the comments or on iReport.
Filed under: climate change • environment • gardening • science