Next up at Monday's TEDx conference was Jane Poynter, who discussed the "two years and 20 minutes" she spent living with eight other people in Biosphere 2, an enclosed ecological system in the Arizona desert.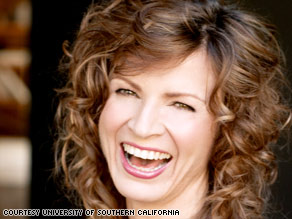 Through living at the biosphere from 1991 to 1993, she grew to understand how much of a part of an isolated environment she was. The group faced difficulty when the biosphere began to run out of oxygen faster than the CO2 levels were increasing.
"In a sense it was terrifying. But at the same time, I knew I could walk out the door if it really got bad," she said. Instead of walking out, Poynter said the thrill of finding the source of the oxygen loss inspired her and the other crew members to remain in the biosphere. They eventually found the source of the problem—the concrete.
The biosphere had a savannah, private beach, rainforest, desert and dwelling for humans. The purpose, she said, was to "take life and jam it into a bubble and see if it survives." (Sidenote for anyone who wants to live in a biosphere: Poynter said she ate so many sweet potatoes she turned orange).
Poynter drew chuckles from the audience when she talked about leaving the biosphere. "I immediately recoiled," she said of her reunion with family and friends, with their hairsprays and deodorants. "They stank." More importantly, after leaving the biosphere Poynter felt frustrated that she no longer knew where her food came from.
The results of the research she completed within the biosphere could help with an effort to grow plants in a self-contained environment on the moon or on Mars, she said.
An hour into the TEDx program, the speakers have already challenged us to think differently and test our ideas. One of the most compelling presentations was given by Donal T. Manahan, a professor of biology at USC, who proposed a "Blue Revolution." This sort of change involves tapping into our protein and food resources in the ocean.
His team of researchers are currently manipulating oysters to make them faster-growing. If organisms can grow faster, humans can eat them faster - potentially solving our food-shortage challenges. Likewise, Manahan says we should call "Planet Earth" by a new name - "Planet Ocean," because 99 percent of our atmosphere is aquatic due to the depth of the oceans. Perhaps we've been short-sighted to seek answers to our food shortages mainly on land?
- USC students Brooke-Sidney Gavins, Kate Mather and Larissa Puro
Filed under: Uncategorized