Some final thoughts from our bloggers at Monday's TEDx conference at USC's Stevens Institute for Innovation: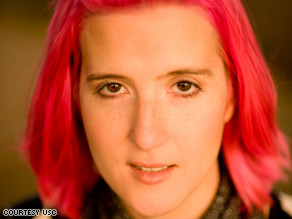 Stevens director Krisztina Holly just announced to the audience that the TEDx USC event is currently No. 2 on Twitter, second only to Jennifer Aniston. She read some of the tweets aloud, many of which are entertaining: "A plethora of hotties at #tedxusc — hooray for smart girls!"
Kellee Santiago, co-founder of thatgamecompany is now speaking on video games, calling them a "catharsis." Santiago has pioneered the creation of gentle, arty games that are closer to visual poetry than traditional, goal-oriented video games.
"How many times does a generation get to witness the birth of an entirely new artistic medium?" she asked the audience. As soon as people recognize video games as an artistic medium, Santiago said, then we can realize the significant impact that these games have on society.
Video games, like radio and TV before them, have been written off as "mindless entertainment." But Santiago believes they will grow within the next century to be more powerful than TV and radio were in the 20th century. "I do think we are on the precipice of an extremely exciting time right now," she said.
Later we heard from Markus Nordberg, resources coordinator for the ATLAS project at the Large Hadron Collider (LHC) - an underground atom-smasher the size of a seven-story building on the border between Switzerland and France. The goal of ATLAS is to recreate the conditions that might have existed very shortly after the Big Bang — and in doing so, better understand how our universe works.
Nordberg said the project uses a lightning-fast camera with 100 megapixels — enough to fill up multiple iPods with data every second. If ATLAS were a telescope, it would be able to spot a grain of sand on Neptune. "It's complex," Nordberg exclaimed, drawing chuckles from the crowd.
It took 15 years to build ATLAS, Nordberg said, and during that time, the hundreds of scientists who built it became family. Nordberg identified three distinguishing traits of the scientists that make the ATLAS collaboration possible:
1. They have the vision to work together to achieve something extraordinary.
2. They have the commitment to contribute.
3. They have a tolerance for freedom and individual expression of ideas.
"We all have our different stories and our different passions, but we all worked together and share the same goal," he said.
Finally, USC Marshall School of Business professor Dave Logan talked about how people, as social beings, naturally form tribes and tribal cultures. Logan, co-author of a book called "Tribal Leadership," classifies five stages of tribal cultures:
Stage 1 (2% of all tribes): The culture of prisons and gangs
Stage 2 (25% of tribes): The culture of DMVs ("How can people be so dumb and yet live?")
Stage 3 (48% of tribes): "I'm great and you're not!" (It tends to happen with smart, successful people—such as those at TEDx USC)
Stage 4 (22% of tribes): "We're great"
Stage 5 (2% of tribes): "Life is great"
The greatest challenge for most of us, Logan said, is moving from Stage 3 to Stage 4.
For more on TEDx, click here.
- USC students Kate Mather, Greg McDonald, Larissa Puro
Filed under: science • technology • video games