One of the challenges in the world of digital innovation is the ability to recreate the human face. During his talk at the TEDx USC conference, Paul Debevec explained that while computer graphics in movies and video games have exploded in recent years, audiences still notice inconsistencies in digitally created human faces (a reason why many video game characters wear helmets, as in "Halo 3").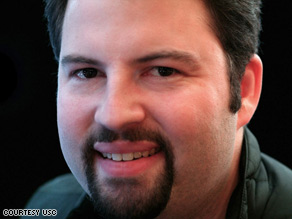 But Debevec, associate director of graphics research at USC's Institute for Creative Technologies, said that digital-imaging technology is fast improving. The work is painstaking and precise, requiring a multi-layered process to capture the skin and facial expressions in different forms.
From oil levels in the pores to the way wrinkles move, the human face is documented and the computerized data merged to create a life-like resemblance. In the near future, the technology Debevec is developing will be applied to whole human bodies. The aim is to create near-flawless digital human clones, with differences subtle enough not to be caught by the audience.
The results, as Debevec showcased at the TEDxUSC conference, have already been seen in "Spiderman 2," "Hancock," and "The Curious Case of Benjamin Button." Didn't notice? That just means it's working, he said.
"We leverage a lot from the fact that computers are literally a million times more powerful than they were when we started," said Debevec. However, his work won't be putting actors out of work anytime soon. Fundamentally, he said, good emotional acting will always be the basis for virtual characters.
The USC audience then experienced the entrancing music of Salman Ahmad, frontman of the international music group Junoon, which blends rock with traditional Sufi devotional music. Ahmad explained he was introduced to rock music as a high school student when he saw Led Zeppelin perform at Madison Square Garden. After the concert, he decided that music was the career for him.
The anecdote is emblematic of the spontaneous innovation we've been exposed to in this event so far. Ahmad's parents wanted him to become a doctor - a noble profession. But instead, as a pioneering musician, he has touched millions more lives. Ahmad is a UN Goodwill Ambassador and defied death threats to play the first rock concert in Kashmir.
Ahmad's spontaneous decision to pick up a guitar, and to create something that had never been created, has empowered profound change, brightened the world and helped spread human understanding. As Ahmad himself noted, "When you see with the heart, all masks fall down."
During his performance Ahmad was joined onstage by a surprise guest: Melissa Etheridge, who dueted with him on "Ring the Bells," a song they wrote together. Audience members joined in by ringing hundreds of tiny porcelain bells - Monday's version of a concert lighter - that had been handed out without explanation earlier.
"Differences are what keeps the change from happening," said Etheridge, explaining how people of diverse cultures must overcome their differences in the quest for peace.
- USC students Matt Harrison, Emily Henry, Kate Mather and Deborah Stokol
Filed under: science • technology