I tweet, you tweet, but who knew a volcano could tweet?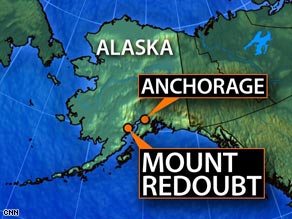 Mount Redoubt in Alaska has been belching out steam and ash for several weeks now. Images and updates have been streaming out of the Alaska Volcano Observatory (AVO) at a steady pace because nothing seems to grab the attention of the public like a good volcano eruption.
AVO is using web technology - live-streaming pictures from the mountain using web cams -– to get more information out to a hungry public. Their Web site has enough techno-speak to make any geologist dance with glee.
But what of the average person who just wants to know when Redoubt is about to burp?
Enter Twitter.
AVO is using the microblogging site (@alaska_avo) to alert followers about steam emissions, ash plumes, and aviation advisories. The tweets are relatively simple (i.e.: There was a small explosion at Redoubt at 16:07 AKDT), but scientists use Twittermail to give more details.
Ken Woods, one of the IT gurus for AVO, said a mom's concern for her son gave them the idea of using Twitter. "There was a lady in the Midwest whose son lives in Alaska, and she wrote to us asking us to use Twitter so she could find out what the conditions were like for her son," Woods said.
She was just the beginning - now more than 6,000 people follow Redoubt's status on Twitter. Woods says about 25 percent of those people have relatives living near the volcano. Even a 98-year-old woman in Orlando, Florida, is following the Redoubt tweets on Twitter because her grandson lives in Anchorage.
Woods said having people follow the volcano on Twitter helps keep the load on his main Web site more manageable. AVO is monitoring more than 130 volcanic areas – including 50 that have been active since 1760.
The Redoubt tweets appear to come from the operations center's log entries. A recent post indicated a change requested by some of the 6,000 people following Redoubt. The tweet read, "If ops center makes log entry 75% equal to immedatly prior entry, will b sent to log, but not twitter. Eliminates same tweet over and over."
Customer service from a volcano! Now if we can just get earthquakes and hurricanes to follow suit.
- Larry Frum, Internet Broadcasting, for CNN.com
Filed under: science • Volcanoes