Thanks to satellite images, we've known for years now that the Arctic ice cap is shrinking. Now comes sobering, if not surprising, new evidence that shows the ice cap is thinning as well.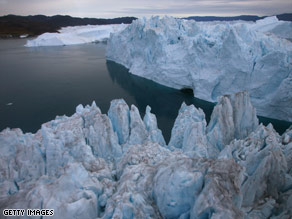 NASA scientists who track Arctic sea ice cover from space announced Monday that this winter had the fifth lowest maximum ice extent on record. The six lowest maximum events since satellite monitoring began in 1979 have all occurred in the past six years (2004-2009), according a joint report by NASA and the NASA-supported National Snow and Ice Data Center at the University of Colorado.
Sea ice thickness has been hard to measure directly, so scientists have typically used estimates of ice age to approximate its thickness. But last year a team of researchers led by Ron Kwok of NASA's Jet Propulsion Laboratory in Pasadena, Calif., produced the first map of sea ice thickness over the entire Arctic basin.
Using two years of data from NASA's Ice, Cloud, and land Elevation Satellite (ICESat), Kwok's team estimated thickness and volume of the Arctic Ocean ice cover for 2005 and 2006. They found that the average winter volume of Arctic sea ice contained enough water to fill Lake Michigan and Lake Superior combined.
The older, thicker sea ice is declining and is being replaced with newer, thinner ice that is more vulnerable to summer melt, according to Kwok. His team found that seasonal sea ice averages about 6 feet in thickness, while ice that had lasted through more than one summer averages about 9 feet, though it can grow much thicker in some locations near the coast.
"Ice extent is an important measure of the health of the Arctic, but it only gives us a two-dimensional view of the ice cover," said Walter Meier, research scientist at the center and the University of Colorado, Boulder, in a NASA press release. "Thickness is important, especially in the winter, because it is the best overall indicator of the health of the ice cover. As the ice cover in the Arctic grows thinner, it grows more vulnerable to melting in the summer."
The report comes as the privately funded $4.3 million Catlin Arctic Survey, a three-month, 621-mile expedition by three British explorers, journeys to the North Pole to measure the thickness of the polar ice cap. Their findings will be presented at the United Nations Climate Change Conference in Copenhagen, Denmark, in December.
Posted by: Brandon Griggs, CNN.com Tech section producer
Filed under: climate change