Have you ever treated a date to an expensive meal in the hope of "getting lucky" afterwards? A new study finds that this may actually work - if you're a chimpanzee.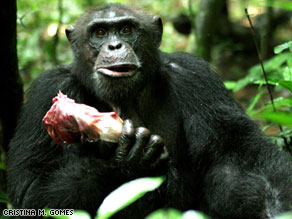 Sagu, an adult male chimpanzee, holding a piece of meat from an animal he caught.
Scientists studying chimps in the Ivory Coast discovered that males give meat to females in exchange for mating access ­– a win-win exchange for both primates. And in this primitive style of wine-and-dine, it turns out the more meat you share, the more sex you get in return.
Researchers Cristina Gomes and Christophe Boesch from the Max Planck Institute for Evolutionary Anthropoloy in Germany published their new findings in the journal PLoS ONE on Wednesday.
"Our results strongly suggest that wild chimpanzees exchange meat for sex, and do so on a long-term basis. Males who shared meat with females doubled their mating success, where as females, who had difficulty obtaining meat on their own, increased their caloric intake, without suffering the energetic costs and potential risk of injury related to hunting," said Gomes, lead author of the study.
Male chimpanzees also were more likely to share a piece of meat with random females who displayed signs of being sexually excited, although their mating "score" rate remained high with female chimps who weren't in heat - as long as the females got fed.
This study specifically looked at the long-term (22 months) effects of meat-sharing, which proved more fruitful for both sexes than short-term exchanges.
"These finding are bound to have an impact on our current knowledge about relationships between men and women; and similar studies will determine if the direct nutritional benefits that women receive from hunters in human hunter-gatherer societies could also be driving the relationship between reproductive success and good hunting skills," Gomes said.
For now, though, it's just "monkey business."
Posted by: Azadeh Ansari
Filed under: Animals