Death.
It happens to all of us at some point, of course. Some of us go expectedly, while others pass very sudden. But no matter which way we go, death is not cheap. From hospital bills to funeral home expenses and burial fees, lots of places are vying for a piece of an estate after a loved one is gone.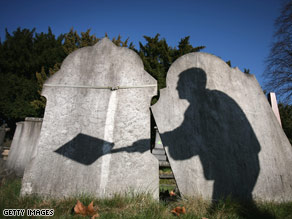 Want to notify people after you've died? Thanks to several Web sites, now you can.
You can now add another industry to that list. Deathswitch.com and Slightlymorbid.com will help the deceased communicate to friends and family even after they have left this world. Both sites will send out e-mails, provided by the deceased while they are living, to pre-selected people after they are gone. The information could contain passwords, final wishes, love notes, or just a simple message letting an online gaming buddy know that you have passed.
The first question that came to my mind was, "How do these sites know that someone has died?" Deathswitch relies on e-mail prompts that are sent at intervals determined by the user. If those e-mail prompts aren't answered, Deathswitch assumes the user is no longer with us. Slightlymorbid uses a different approach. It requires a friend or family member of the deceased to log in to pronounce the person deceased.
I am not sure about you, but I see a few problems with this service. What if John Smith is in a foreign country with no Internet access, or John's family member is mad at him and wants to pronounce him dead? No one wants to get an e-mail saying their best friend John Smith has passed away when he really is still alive. Think of the emotional problems that could cause.
Each site offers slightly different features and services at several different price points. Costs range from a yearly fee of $20 with Deathswitch to a one-time fee of $10-$50 with Slightlymorbid.
Now, I know in this tough economy everyone is trying to find unique ways to make money, but is it ethical to charge the living for a service to be performed after they are dead? Couldn't the same posthumous information being sent via e-mail be put in letters, or a will, or told to a family member?
However, from a business perspective, if people are willing to pay for a service I suppose someone might as well provide it for them. After all, our society likes to spend money on useless things and services just because they exist.
Either way you look at it, both these Web sites are fulfilling a service that wasn't provided in the past. Whether you use them or not is up to you.
– Christopher Piatt, CNN Media Coordinator
Filed under: Internet