Are you thinking about buying an iPhone but waiting until the device is available on wireless carriers other than AT&T? You may have to wait a while.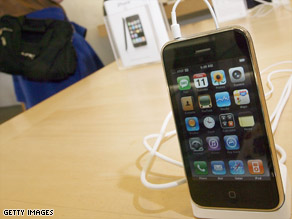 Apple and AT&T met last August and agreed to extend AT&T's contract as exclusive carrier of the iPhone through the end of 2009 - at which time Apple would presumably be allowed to start selling the popular smartphone on other carriers.
Now, AT&T wants to extend that deal another two years, according to a report Tuesday evening in The Wall Street Journal.
An Apple spokeswoman declined to comment, saying only, "We have a great relationship with AT&T."
Some iPhone users have grumbled about spotty AT&T service - notably during last month's South by Southwest Interactive conference in Austin, Texas, where thousands of iPhone-carrying attendees overloaded AT&T's network.
It'll be interesting to see if Apple agrees to AT&T's request or seeks to broaden the iPhone's popularity by opening the device to Verizon, Sprint and other carriers.
Posted by: Brandon Griggs, CNN.com Tech section producer
Filed under: Internet • technology