Earth Day is tomorrow, and several news sites have ideas about how you can use technology to save energy and help the environment. Here's a sample: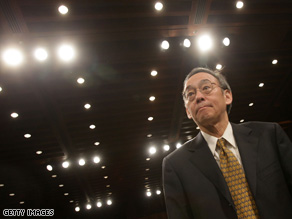 SAVE ENERGY: CNET has a good overview of how technology can gobble up energy, and another story on power-saving green technologies to watch. When it come to computer energy savings, screen savers don't cut it, one story says:
Screen saver software does not save energy. It's much better to turn off your monitor when you take a break. CO2 Saver, a free program for Windows XP and Vista, can help you manage your PC's sleep behavior.
DIY: On the DIY (do it yourself) side of things, NPR has a first-person story about a man who made a solar backpack that charges his iPod while he walks around Manhattan.
SMART GRID: Here's a Chicago Tribune blog about GE's "plug" on Monday of Miami's new smart grid, which an exec says is the largest project of its kind. Smart grids use automated meters to save energy. The technology is a government priority in the U.S. and in Europe these days.
ONLINE NEWS: The New York Times quotes experts who say ditching newspapers for online information may be the sustainable thing to do. The paper notes that Marriott hotels no longer will leave papers on their guests' doorsteps.
FINANCIAL CRUNCH: PC World reports on a survey that says investors are turning away from green technology because of the economic recession. But some still would like to see green tech be a priority, the site says.
AT SCHOOL: If you're a student or a parent, earthday.net has some ideas about greening your school. Among them: talk to administrators about switching to lower-energy LED "Exit" signs. One old-school "Exit" sign costs about $24 per year to operate, according to the EPA.
BICYCLE: Finally, it's worth noting that low-tech solutions can be green, too. The New York Times magazine recently interviewed the nation's energy secretary, Steven Chu (pictured above), who indicates he feels guilty that security officials won't let him ride his bike to work anymore. An excerpt:
Is it true you don't drive a car?
My wife does, but I no longer own a car. Let me just say that in most of my jobs, I mostly rode my bicycle.

And now?
My security detail didn't want me to be riding my bicycle or even taking the Metro. I have a security detail that drives me.

How do you feel about adding carbon emissions to the air?
I don't feel good about it.
What technology helps you be green? Tell us about it in the comments. You also can share your views on local environmental issues on iReport.com.
Posted by: John D. Sutter -- CNN.com writer/producer
Filed under: computers • Earth Day • Energy • environment • Scientists • solar energy • technology