It seems counting  is all the rage on the Internet these days - particularly when it involves nice, even numbers.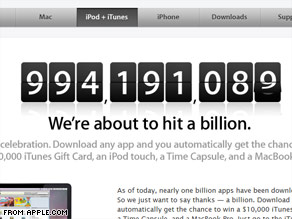 Take a look at the recent news:
First it was Facebook that made it to 200 million users (and probably has way more than that by now).
Then there was the CNN/Ashton Kutcher race to be the first Twitter user with 1 million followers.
Now Apple is upping the ante with its quest for 1 billion downloads of applications for the iPhone. Check out Apple.com's rolling counter. It looks like iPhone apps may hit the 1 billion mark by Thursday morning.
What's more interesting, however, is that each event gives observers a chance to weigh in on the state of the Internet, and what this tells us about our culture.
In the case of iPhone apps, there are several angles blogs and news organizations are taking:
NYTimes writes about people who - despite the sunken economy - are making money by selling iPhone apps. (more on that from Flurry)
There's plenty of talk about the most popular iPhone apps. According to ReadWriteWeb, the majority are used for entertainment. News is the next-hottest category. Apple says the Facebook app is the most popular of the free applications, and Crash Bandicoot tops the paid list (at about $6).
TechCruch writes that Apple seems to be estimating its billionth app download off of your computer's clock. At one point, Apple's counter was set to switch to 1 billion at 3:24 a.m. ET, the site says. Now the clock has been set back a bit, according to TechCrunch.
For those of you new to the app world, here's a guide.
In the comments sections, feel free to tell CNN what apps you find interesting, and how you use them. Has the iPhone changed the way you live and interact with other people? What about other phones? Are the apps as good?
Posted by: John D. Sutter -- CNN.com writer/producer
Filed under: iPhone