Today in technology news, CNN.com brings you a few neat - and slightly frightening - Internet trends: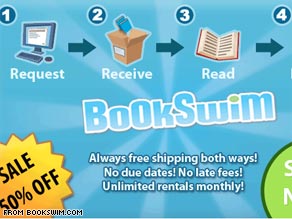 FACES: A company called Polar Rose offers a relatively new service that scans photos and determines who's in them - using  facial-recognition technology. As CNET reports, the service currently exists as an add-on for the photo-sharing site Flickr. It could have future applications for Facebook (which means we'll all just have to wake up earlier to untag ourselves from embarrassing photos).
PROFILE: Google offers a new service that lets you set up a Google profile, which, a Wired blogger writes, soon could be the first search item to pop up with your name is searched on the site. Beware, the blog says, because this gives Google unprecedented power over your online persona.
DATING: Sick of the dating scene? SkyeCandy is a new speed-dating service that lets would-be love birds hold 5-minute video chats online through Skype. Check out this slightly creepy intro video on SkyeCandy's homepage.
BOOKS: For those weary of dusty library shelves (and free public services), BookSwim now offers a Netflix-like service that will ship new books to your home for a monthly fee. That paper-bound service hasn't gotten as much buzz as the e-book scene. Check out this WSJ story. The writer says digital books, an old-ish idea that seems to be catching on more because of Amazon's Kindle reader, will change the way we read and write:
I knew then that the book's migration to the digital realm would not be a simple matter of trading ink for pixels, but would likely change the way we read, write and sell books in profound ways. It will make it easier for us to buy books, but at the same time make it easier to stop reading them.
What's on your mind today? Found any interesting sites or new online services? Share your thought in the comments section below.
Posted by: John D. Sutter -- CNN.com writer/producer
Filed under: Facebook • Internet • social-networking sites