The billionth iPhone app was downloaded from Apple's App Store shortly after 5 p.m. ET today. All of those App Store downloads took place in only 9 months, so that's about 5.5 million iPhone app downloads per day, on average.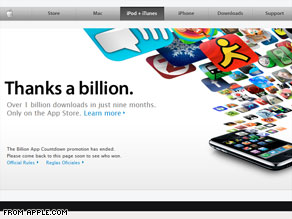 It's clear that the iPhone and its many applications are a key part of our culture and the way people communicate with each other these days. TechCrunch has some more on the speed of the iPhone global takeover (and a hilarious McDonald's spin-off headline: "1 billion served"):
Last summer, Apple sold one million 3G iPhones worldwide across 21 countries in the first 3 days on sale. During that same time, iPhone users made 10 million app downloads from the then newly launched iTunes App Store.
The Silicon Alley Insider also wrote about the pace of downloads - and the sheer volume. By their estimate, the average iPhone user has 30 apps:
With about 30-35 million iPhone and iPod touch devices in the market, that suggests the average person has downloaded about 30 apps. That's a lot! Most mobile users download zero apps on their phones.
The race to 1 billion stalled the iPhone app store for a bit this afternoon, tuaw.com writes:
The iTunes Store was showing up as unavailable for several people off and on throughout the afternoon. Even Apple itself jumped the gun a little bit by having its after 1 billion page already available early Thursday, in addition to the counter in iTunes showing the 1 billion mark before the official counter on Apple's website.
In honor of the milestone, I pulled in a few lists of the best iPhone apps. What do you all think of them? Tell us in the comments.
Current most-downloaded list: from Apple
Top 11 apps: from Time
Most popular: from Wired
Best apps of 2008: from Gizmodo
How do you use iPhone apps? What's your favorite? Tell us about your iPhone app experience!
Posted by: John D. Sutter -- CNN.com writer/producer
Filed under: Internet • iPhone