Here are a few stories CNN.com is watching today: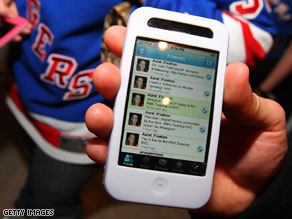 ECO-DATA: Wired magazine writer Alexis Madrigal has a must-read piece on how data is the key to making environmentally conscious decisions. My inbox has been flooded lately with companies that claimed they were "going green" for Earth Day. Madrigal writes about how a few data crunchers are actually trying to figure out what works and doesn't (turns out: solar backpacks, not so helpful).

SPAM: An NYT blog raises conflict-of-interest questions about a study that says spam wastes a bunch energy. One strangely phrased statistic stuck out for me: one spam message produces the same amount of greenhouse gases as driving 3 feet.
IPHONE: You may have thought that nothing could spoil the day for Apple, since the billionth iPhone app likely will be downloaded today. But you're wrong. One iPhone application is diverting attention from that milestone because it let users shake a crying, digital baby until it dies. Apple reportedly decided to pull the Baby Shaker app after parenting groups expressed outrage.
The incident raises questions about Apple's quality control measures for iPhone apps, many of which are developed independently. Here's what some news orgs are saying on that:

From the Telegraph in the UK:
Apple has recently relaxed its rules on applications in the App Store. Bans on applications which made noises simulating breaking wind and allowed users to jiggle womens breasts have been lifted.
From MSNBC:
The company has been criticized by software developers for not allowing other kinds of programs, such as those that pass digital gas, into the App Store.
Such apps ultimately were approved, although the developer of one, "Whoopie Cushion," was first told by Apple that his program did not "comply with Community Standards," programs that have "any obscene, pornographic, offensive or defamatory content or materials of any kind (text, graphics, images, photographs, etc.) or other content or materials that in Apple's reasonable judgment may be found objectionable by iPhone or iPod touch users."
And from Huffington:
Apple spokeswoman Natalie Kerris said "Baby Shaker" went on sale Monday, and confirmed that Apple removed it Wednesday. She would not comment on why the program was initially approved for sale nor about how many people downloaded the game. Apple itself screens each iPhone application, a process some prospective iPhone application developers have complained can take weeks or months. Others have said Apple gives little feedback when it accepts or rejects a program.

The Cupertino, Calif.-based company has rejected apps that let iPhone users throw virtual shoes at President George W. Bush or watch clips from the "South Park" cartoon. It has accepted numerous programs that simulate flatulence.
Posted by: John D. Sutter -- CNN.com writer/producer
Filed under: Earth Day • environment • Internet • iPhone