In researching a story about what it might look like if you were to fall into a black hole, I came across the concept of white holes.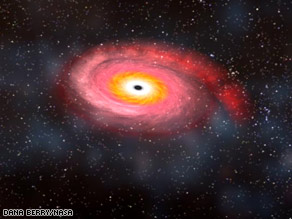 This is not a new idea, but it's fascinating, so for those of you who have never heard about it, here's a primer.
Think of a white hole as an "anti-black hole," according to Cornell University's Curious About Astronomy Web site. So if black holes are places where matter is sucked in, white holes could be where it spews out, like water through a fire hose.
"Some people say maybe all that material that's collapsing into this black hole… goes through a worm hole or some theoretical idea and blasts out in some other place in the universe," said Jeff McClintock, senior astrophysicist, at the Harvard-Smithsonian Center for Astrophysics.
Another way to look at it is through the waterfall analogy. If you think of a black hole as space falling down one side of a ravine, imagine it bouncing off the bottom and climbing back up the other side, said Andrew Hamilton, a professor of astrophysics at the University of Colorado, Boulder.
"But you never see that thing in nature and it doesn't happen in real black holes," Hamilton said.
The concept of white holes is totally theoretical and most people don't give it much credence, McClintock added.
"Thousands of astronomers are just grinding their brains away on black holes," he said. "You compare that to a white hole, I don't think you'll find one astronomer grinding his brain away."
Posted by: A. Pawlowski, CNN.com
Filed under: Astronomy • Space