Here are a few stories CNN.com is watching today: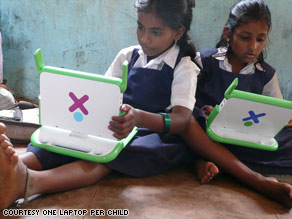 INDIA: By now, you've probably heard of the One Laptop Per Child project (background from CNN), which seeks to lift poverty and spread peace by giving kids in developing countries inexpensive laptops. Ars Technica, the tech blog, writes about an interesting development in that effort: India has decided to jump on board after it opposed the program. The country also has stopped trying to create a $10 laptop after that turned out not to be possible, the site reports:
OLPC launched a pilot program in India in 2007 with 20 XO laptops at a school in Khairat-Dhangarwada village in the state of Maharashtra. Although the pilot program was successful, the country's Ministry of Human Resource Development (MHRD) was highly skeptical about OLPC, and expressed concerns about the health implications of prolonged laptop use among students.

The MHRD later reversed its views about the health implications of youth computing and launched its own dubious program to build a competing $10 laptop. Unsurprisingly, the $10 laptop never materialized. When the country finally unveiled its highly ambiguous plans for its $10 "Sakshat" computing initiative earlier this year, it was revealed that the device would not be a laptop and would cost significantly more than $10 to produce.
OBAMA: President Obama wants us to be creative, NYTimes staffer Andrew Revkin writes on his blog DotEarth. The president made the remark in front of a group of scientists, saying also that the scientific community needs to get out in the public. The remarks seem to go right along with Obama's apparent philosophy that innovation will help the U.S. address many of its problems. More from the post:
In the address, he called for scientists to move out of the laboratory into society, essentially becoming emissaries in what he said must be a national movement to inspire and enable young people "to be makers of things, not just consumers of things."
CREATIVITY: CBSNews.com has a blog post saying the economic recession has put Obama's technology agenda on hold. Here are some of the projects and appointments that have been delayed, according to the post:
Some of the most important pieces of the president's technology policy are only beginning to unfold. Less than two weeks ago, Obama appointed Virginia's secretary of technology, Aneesh Chopra, to be his chief technology officer. Chopra is responsible for formulating an open government directive within the next 20 days and will work closely with Obama's chief information officer, Vivek Kundra.

Obama's pick to chair the Federal Communications Commission, Julius Genachowski, has yet to be confirmed, but he is expected to push for more Net neutrality regulation.

All three appointments, Scott said, "reflect a strong commitment to a new kind of technology policy, (and) a commitment to making technology work for the government."
What's on your mind today? Any technology or science stories catching your attention? Feel free to weigh in with a comment.
Posted by: John D. Sutter -- CNN.com writer/producer
Filed under: technology