Computers are getting way smarter - or at least are trying to, as a few recent news reports indicate. Here are a few stories CNN.com finds interesting: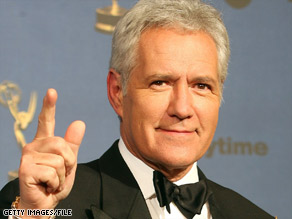 JEOPARDY: NYT says IBM computers soon will compete against contestants on the game show "Jeopardy!" Unlike in chess, where there are fewer possible moves or questions, it's unclear if the computers will be able to beat humans on the show:
Indeed, the creators of the system — which the company refers to as Watson, after the I.B.M. founder, Thomas J. Watson Sr. — said they were not yet confident their system would be able to compete successfully against the show's human champions, who typically provide correct responses 85 percent of the time.
MONITORS: CNET writes about computer monitors that can "see" whether or not you're at your desk. That's a little creepy, but it does save energy. The monitors sense motion, which leads the author to joke about trying to sit with ninja-like stillness to trick the screen:
The EcoView feature allows the monitors–using motion detectors–to detect if a person is sitting in front of it. If it senses for 40 seconds that no one is there, it puts the monitor into sleep mode. It then resumes normal operation when the user returns.
APP WINNER: Wired has a follow-up to the buzz over the billionth download of an iPhone app. A 13-year-old apparently downloaded the billionth app - a free program that lets users exchange contact info by knocking their iPhones together.
He's not the only winner. Bump Technology also stands to gain from having its app mentioned in the first paragraph of an Apple announcement.

The company's free app (paid version soon) is simple but potentially useful. Enter your phone number, address, e-mail address, and photo, and you'll be able to beam any or all of that information to another iPhone or iPod Touch user who also has the app installed with a simple fist-bump greeting gesture. Contact information gets swapped over an encrypted internet connection, not Bluetooth or an ad-hoc WiFi connection, but that could change this summer when Apple enables peer-to-peer connections on the devices.
Posted by: John D. Sutter -- CNN.com writer/producer
Filed under: computers