There's been much talk in the past couple days about how useful social media is, or isn't, for disseminating information during an emergency.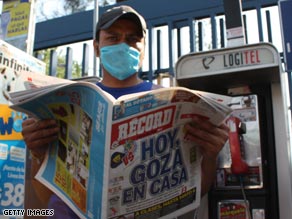 A writer from CNET sums up the situation well:
The role that social media has played in the spread of information throughout the swine flu outbreak has been significant. Some would argue that social media has helped to fuel the fire, along with the constant coverage on the news. For better or for worse, social media is likely to be one of the primary mediums through which information spreads in a crisis moving forward.
On Tuesday afternoon, I posted an update to my story about the controversy over swine flu info on Twitter. I found it interesting that the top spokesman for the CDC told me he thinks social media's role in the swine flu outbreak has been positive, on the whole. From the story:
"I think it's generally a useful development, but I would encourage people to look to other sources, especially established, recognized medical authorities," said Glen Nowak, chief of media relations at the CDC. "It shows that people are engaged and they care and that it's caught their attention - and those all are good things."
Furthermore, Nowak said studies show that, in a crisis, people tend to get their information from multiple sources. They also rely most heavily on information from the medical community, he said.
The social media conversation continues today. Check out Facebook's maps and charts that show how much traffic this story is getting there. And, of course, CNN has interactives and a map to help you understand the story.
Or, you can always follow the CDC on Twitter.
Posted by: John D. Sutter -- CNN.com writer/producer
Filed under: social-networking sites • technology • Twitter