Sorry for the swarm of Twitter news, but I thought even some of you Twitter haters out there (yeah, I see you in the comments ... ) might find a new report from Nielsen interesting.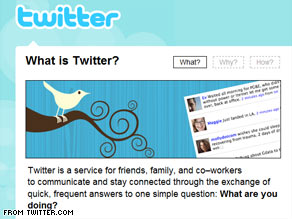 The main finding: Only 40 percent of people who start using Twitter come back a month later. So while lots of people are trying the site, most of them aren't with the trend for very long.
That 40-percent rate is much lower than MySpace and Facebook, other social media sites, Nielsen says:
... even when Facebook and MySpace were emerging networks like Twitter is now, their retention rates were twice as high. When they went through their explosive growth phases, that retention only went up, and both sit at nearly 70 percent today.
Nielsen has more on what this could mean for Twitter's growth:
To be clear, a high retention rate doesn't guarantee a massive audience, but it is a prerequisite. There simply aren't enough new users to make up for defecting ones after a certain point.
On a brighter note, the ratings group also says Twitter's retention rate - those who come back to the site - has increased since Ashton Kutcher started the much-publicized Twitter race with CNN and Oprah jumped  on the micro-blogging bandwagon. And there are plenty of new-media observers who say Twitter is the next big thing for news and conversation online.
It's hard not to argue that the site is already changing the way people communicate.
And it's also hard to avoid being a little amazed at the sheer pace of Twitter's expansion: the site saw more than 1,300 percent growth in roughly the last year.
Posted by: John D. Sutter -- CNN.com writer/producer
Filed under: social-networking sites • technology • Twitter