For President Obama's 100th day in office, the White House rolled out a stream of photos on Flickr, the photo-sharing site.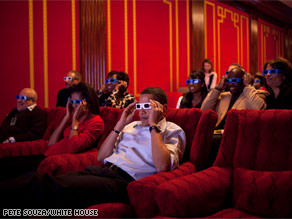 My personal favorite is the one at right, which shows the president and first lady watching the Super Bowl in 3D glasses. Thanks to a co-worker at iReport for passing that along.
As Wonkette notes, Obama used a Flickr account during his campaign, but his photographer hadn't posted any photos of his time in the White House until today. (check out CNN's special coverage of Obama's first 100 days).
Such fun, back in the day, when you could look at "Barack Obama's Photostream" on the Flickr. But then, he became President, and suddenly no more fun pictures. Well, rejoice! White House photographer Pete Souza uploaded a whole bunch of great White House Official Pix, and you can look at them, because you OWN them (if you paid taxes).
The stream seems to reinforce the message that Obama is hip to social media. Instead of pushing out photos and information only through official sites - like WhiteHouse.gov - the administration has become known for using social media like Twitter and Facebook to get its message across.
I find it interesting that celebrities and politicians seem to use these mediums to get closer to their fans and constituents. Never before could so many people talk so directly with famous people as they can now online. The Flickr photos also are a technological follow-up to Obama's national address where he took Internet questions and streamed the answers online in video format.
As a counterpoint, the UK's Telegraph writes about how today's milestone is merely another opportunity for the American media to gush about the president:
... the American media have already put Mr Obama on a pedestal. The sometimes cranky Washington Post columnist David Broder described the president's 100 day sprint as "a bravura opening". For Time Magazine (where Mr Obama is once again on the cover) the columnist Joe Klein described Mr Obama's legislative achievements to date as "stupendous" – listing the $789 billion stimulus bill, a budget plan that is still being hammered out and progress on a landmark safety-net programme aimed at providing universal health insurance.
What do you think? Which photos are your favorites? Do you find politicians on social media to be genuine? Is it more than a PR stunt? Feel free to weigh in on this post with comments.
Posted by: John D. Sutter -- CNN.com writer/producer
Filed under: Flickr • social-networking sites