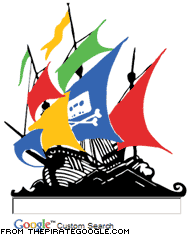 The Pirate Bay defendants may have been unsuccessful when they tried to compare their site to Google before a judge, but that didn't stop one anonymous web designer from launching The Pirate Google, a Google search gateway which tries to make the point that digital files can be accessed through Google as well.
Ars Technica scored an interview with the mysterious coder and he (or she) explained the site's intention.
"The purpose of the site was simply to provoke discussion on issues such as piracy, net neutrality, and the power of the Internet as a disruptor of more traditional forms of media."
While The Pirate Google doesn't add any additional search functionality, it clearly demonstrates Google's ability to satisfy a searcher's thirst for torrents, both legal and otherwise.
A short mission statement on the fledgling site's homepage reads:
This site is not affiliated with Google, it simply makes use of Google Custom Search to restrict your searches to Torrent files. You can do this with any regular Google search by appending your query with filetype:torrent.

The intention of this site is to demonstrate the double standard that was exemplified in the recent Pirate Bay Trial. Sites such as Google offer much the same functionality as The Pirate Bay and other Bit Torrent sites but are not targeted by media conglomerates such as the IFPI as they have the political and legal clout to defend themselves unlike these small independent sites.
Does the Pirate Google further the Pirate Bay's cause or is it simply rehashing an already failed argument? Will Google be the next victim in the entertainment industry's fight against the Internet?
Posted by: Wes Finley-Price -- CNN.com Webmaster
Filed under: file sharing • Internet • piracy • Uncategorized