April 14, 2009
Posted: 12:04 PM ET
Here are some tech stories CNN.com is watching today: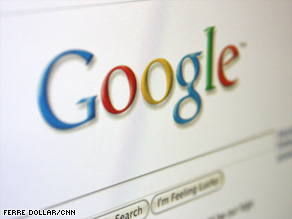 1. Twitter has been in the news mostly because of its breakneck growth and celebrity groupies, but the storyline of the micro-blogging site took an interesting turn today as USC researchers said Twitter may be too fast for the brain. A constant stream of facts won't let the brain's "moral compass" evaluate situations, leading some to worry about the development of the Twitter generation.
2. Also in the Twitter news thread, a flap between gay and lesbian writers and Amazon.com has some resolution, although it's still getting buzz today online. As CNN reports, several prominent authors complained their gay-themed works were dropped from Amazon's online search because they were unfairly labeled as "adult" content. Amazon told the New York Times the search problem was the result of "an embarrassing and ham-fisted cataloging error."
3. Ars Technica, a technology news site, reports a conflict is developing as states try to take health records out of manila file folders and store them electronically. Some worry privacy - which is strictly regulated - could be compromised.
4. I thought some of you might have fun with 12seconds, a site where users post video clips that must be shorter than - you guessed it - 12 seconds. It's kind of like Twitter for video, but the site has a much more zen feel, at least so far. I'm glad my morning drive didn't look like this.
5. Speaking of work, watch out to make sure your boss isn't wearing a necktie with a built-in video camera. According to Engadget, Thanko has created a necktie with a camera that can record 4 hours of low-resolution video and has an on-off remote.
6. Lastly, Google continues its expansion of Google Earth mapping with a new feature that allows users to swim down into the Great Lakes, TechCrunch reports. For those who don't want to swim alone (and - safety first! - that should be all of you), the National Oceanic and Atmospheric Administration teamed up with Google to create a guided tour of the lakes, which, for point of trivia, hold about 20 percent of the world's freshwater.
Check back tomorrow for more on the latest tech buzz.
Posted by: John D. Sutter -- CNN.com writer/producer
Filed under: technology • Twitter
April 13, 2009
Posted: 10:08 AM ET
Death.
It happens to all of us at some point, of course. Some of us go expectedly, while others pass very sudden. But no matter which way we go, death is not cheap. From hospital bills to funeral home expenses and burial fees, lots of places are vying for a piece of an estate after a loved one is gone.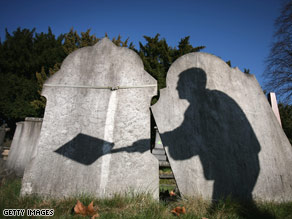 Want to notify people after you've died? Thanks to several Web sites, now you can.
You can now add another industry to that list. Deathswitch.com and Slightlymorbid.com will help the deceased communicate to friends and family even after they have left this world. Both sites will send out e-mails, provided by the deceased while they are living, to pre-selected people after they are gone. The information could contain passwords, final wishes, love notes, or just a simple message letting an online gaming buddy know that you have passed.
The first question that came to my mind was, "How do these sites know that someone has died?" Deathswitch relies on e-mail prompts that are sent at intervals determined by the user. If those e-mail prompts aren't answered, Deathswitch assumes the user is no longer with us. Slightlymorbid uses a different approach. It requires a friend or family member of the deceased to log in to pronounce the person deceased.
I am not sure about you, but I see a few problems with this service. What if John Smith is in a foreign country with no Internet access, or John's family member is mad at him and wants to pronounce him dead? No one wants to get an e-mail saying their best friend John Smith has passed away when he really is still alive. Think of the emotional problems that could cause.
Each site offers slightly different features and services at several different price points. Costs range from a yearly fee of $20 with Deathswitch to a one-time fee of $10-$50 with Slightlymorbid.
Now, I know in this tough economy everyone is trying to find unique ways to make money, but is it ethical to charge the living for a service to be performed after they are dead? Couldn't the same posthumous information being sent via e-mail be put in letters, or a will, or told to a family member?
However, from a business perspective, if people are willing to pay for a service I suppose someone might as well provide it for them. After all, our society likes to spend money on useless things and services just because they exist.
Either way you look at it, both these Web sites are fulfilling a service that wasn't provided in the past. Whether you use them or not is up to you.
– Christopher Piatt, CNN Media Coordinator
Filed under: Internet
April 8, 2009
Posted: 11:51 AM ET
Have you ever treated a date to an expensive meal in the hope of "getting lucky" afterwards? A new study finds that this may actually work - if you're a chimpanzee.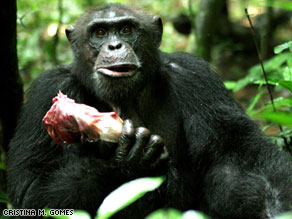 Sagu, an adult male chimpanzee, holding a piece of meat from an animal he caught.
Scientists studying chimps in the Ivory Coast discovered that males give meat to females in exchange for mating access ­– a win-win exchange for both primates. And in this primitive style of wine-and-dine, it turns out the more meat you share, the more sex you get in return.
Researchers Cristina Gomes and Christophe Boesch from the Max Planck Institute for Evolutionary Anthropoloy in Germany published their new findings in the journal PLoS ONE on Wednesday.
"Our results strongly suggest that wild chimpanzees exchange meat for sex, and do so on a long-term basis. Males who shared meat with females doubled their mating success, where as females, who had difficulty obtaining meat on their own, increased their caloric intake, without suffering the energetic costs and potential risk of injury related to hunting," said Gomes, lead author of the study.
Male chimpanzees also were more likely to share a piece of meat with random females who displayed signs of being sexually excited, although their mating "score" rate remained high with female chimps who weren't in heat - as long as the females got fed.
This study specifically looked at the long-term (22 months) effects of meat-sharing, which proved more fruitful for both sexes than short-term exchanges.
"These finding are bound to have an impact on our current knowledge about relationships between men and women; and similar studies will determine if the direct nutritional benefits that women receive from hunters in human hunter-gatherer societies could also be driving the relationship between reproductive success and good hunting skills," Gomes said.
For now, though, it's just "monkey business."
Posted by: Azadeh Ansari
Filed under: Animals
April 7, 2009
Posted: 06:10 PM ET
Thanks to satellite images, we've known for years now that the Arctic ice cap is shrinking. Now comes sobering, if not surprising, new evidence that shows the ice cap is thinning as well.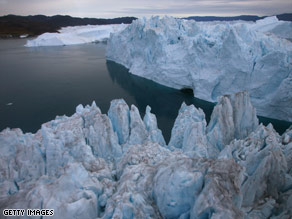 NASA scientists who track Arctic sea ice cover from space announced Monday that this winter had the fifth lowest maximum ice extent on record. The six lowest maximum events since satellite monitoring began in 1979 have all occurred in the past six years (2004-2009), according a joint report by NASA and the NASA-supported National Snow and Ice Data Center at the University of Colorado.
Sea ice thickness has been hard to measure directly, so scientists have typically used estimates of ice age to approximate its thickness. But last year a team of researchers led by Ron Kwok of NASA's Jet Propulsion Laboratory in Pasadena, Calif., produced the first map of sea ice thickness over the entire Arctic basin.
Using two years of data from NASA's Ice, Cloud, and land Elevation Satellite (ICESat), Kwok's team estimated thickness and volume of the Arctic Ocean ice cover for 2005 and 2006. They found that the average winter volume of Arctic sea ice contained enough water to fill Lake Michigan and Lake Superior combined.
The older, thicker sea ice is declining and is being replaced with newer, thinner ice that is more vulnerable to summer melt, according to Kwok. His team found that seasonal sea ice averages about 6 feet in thickness, while ice that had lasted through more than one summer averages about 9 feet, though it can grow much thicker in some locations near the coast.
"Ice extent is an important measure of the health of the Arctic, but it only gives us a two-dimensional view of the ice cover," said Walter Meier, research scientist at the center and the University of Colorado, Boulder, in a NASA press release. "Thickness is important, especially in the winter, because it is the best overall indicator of the health of the ice cover. As the ice cover in the Arctic grows thinner, it grows more vulnerable to melting in the summer."
The report comes as the privately funded $4.3 million Catlin Arctic Survey, a three-month, 621-mile expedition by three British explorers, journeys to the North Pole to measure the thickness of the polar ice cap. Their findings will be presented at the United Nations Climate Change Conference in Copenhagen, Denmark, in December.
Posted by: Brandon Griggs, CNN.com Tech section producer
Filed under: climate change
April 2, 2009
Posted: 12:27 PM ET
In a weird sort of environmental paradox, the Natural Resources Defense Council on Wednesday released maps of the American West showing areas that would be damaged if they're developed for renewable energy.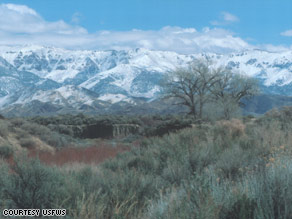 Renewable energy expansion is a priority of the Obama administration, but some of the land that could be used for wind or solar power also is home to endangered and threatened species.
It's an interesting example of environmental issues butting heads. Environmentalists generally support renewable energy projects because they reduce the amount of heat-trapping gases going into the atmosphere - and therefore help to slow global climate change. But this could be a sign they may oppose some wind and solar projects.
NRDC says the issues don't have to be in opposition. Careful planning could solve the conflict, the group says.
You can check out the maps on Google Earth.
Here's one example: a birding group mapped areas of Wyoming where the sage-grouse lives.
In my previous life as an environment reporter in Oklahoma, I wrote about how wind farms in that state are crossing paths with a funky bird called the lesser prairie chicken. The bird is so popular it even has YouTube videos.
What do you think? Can we ditch fossil fuels and protect wildlife? What should be the priorities?
Posted by: John D. Sutter -- CNN.com writer/producer
Filed under: Animals • Birds • climate change • endangered species • Energy • environment • Politics • solar energy
April 1, 2009
Posted: 01:56 PM ET
I tweet, you tweet, but who knew a volcano could tweet?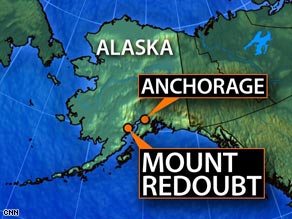 Mount Redoubt in Alaska has been belching out steam and ash for several weeks now. Images and updates have been streaming out of the Alaska Volcano Observatory (AVO) at a steady pace because nothing seems to grab the attention of the public like a good volcano eruption.
AVO is using web technology - live-streaming pictures from the mountain using web cams -– to get more information out to a hungry public. Their Web site has enough techno-speak to make any geologist dance with glee.
But what of the average person who just wants to know when Redoubt is about to burp?
Enter Twitter.
AVO is using the microblogging site (@alaska_avo) to alert followers about steam emissions, ash plumes, and aviation advisories. The tweets are relatively simple (i.e.: There was a small explosion at Redoubt at 16:07 AKDT), but scientists use Twittermail to give more details.
Ken Woods, one of the IT gurus for AVO, said a mom's concern for her son gave them the idea of using Twitter. "There was a lady in the Midwest whose son lives in Alaska, and she wrote to us asking us to use Twitter so she could find out what the conditions were like for her son," Woods said.
She was just the beginning - now more than 6,000 people follow Redoubt's status on Twitter. Woods says about 25 percent of those people have relatives living near the volcano. Even a 98-year-old woman in Orlando, Florida, is following the Redoubt tweets on Twitter because her grandson lives in Anchorage.
Woods said having people follow the volcano on Twitter helps keep the load on his main Web site more manageable. AVO is monitoring more than 130 volcanic areas – including 50 that have been active since 1760.
The Redoubt tweets appear to come from the operations center's log entries. A recent post indicated a change requested by some of the 6,000 people following Redoubt. The tweet read, "If ops center makes log entry 75% equal to immedatly prior entry, will b sent to log, but not twitter. Eliminates same tweet over and over."
Customer service from a volcano! Now if we can just get earthquakes and hurricanes to follow suit.
- Larry Frum, Internet Broadcasting, for CNN.com
Filed under: science • Volcanoes