Here's a buzzworthy Friday-afternoon topic: Google announced on its blog that it has traded in lawn mowers for grass-chewing goats at its Mountain View headquarters in California.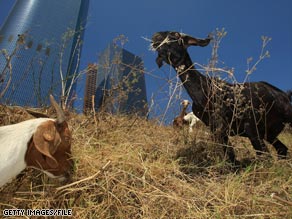 "No 'kidding,'" the post says.
A herder brings about 200 goats and they spend roughly a week with us at Google, eating the grass and fertilizing at the same time. The goats are herded with the help of Jen, a border collie. It costs us about the same as mowing, and goats are a lot cuter to watch than lawn mowers.
The post is getting a lot of talk on Twitter (check that out here), but it's not a new idea. The city of Los Angeles hired goats to gnaw down some of its brush.
The goats don't burn fossil fuels and, as Google says, don't cost too much either.
Here's more from TechCrunch:
Google is renting the goats from a company called California Grazing. Apparently, every so often a herder will bring about 200 of them to the campus and they'll roam around for a week eating the grass. Not only that, these goats will fertilize the land at the same time — yes, that way.
Filed under: Google