In case you missed them, here are three cool user-submitted videos from CNN's iReport.com.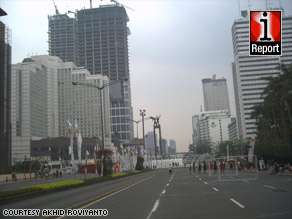 The first shows a car-free day in Jakarta. The city looks pretty eerie without any cars on the streets. Check out the photos, and also this story from the Jakarta Post, which says pollution is greatly reduced when there aren't so many people driving. More there:
According to the Jakarta Environmental Management Board's (BPLHD) 2008 data, dust particles in the air on Car-Free Day drop by 34 percent on average, carbon monoxide (CO) drops 67 percent and nitrogen oxide (NO) 80 percent.

Twenty-two car-free events are scheduled this year, 12 of them on Jl. Sudirman and Jl. Thamrin on the last Sunday of each month.
Next up, San Diego iReporter Chris Morrow interviews Gary Vaynerchuk, a fast-talking Internet wine critic, about how to hold an effective conversation on Twitter. Check out the critic's site (he's known for drinking throughout his reviews, so they're usually most interesting by the end) and also Morrow's Twitter feed. [disclaimer: Morrow misspells Vaynerchuk's name in the video]
Finally, watch this young traveler's take on the H1N1 outbreak (formerly known as swine flu). Sort of in defiance of his post's title - "WE'RE ALL GOING TO DIE!" - the reporter overall is a voice for calm amid the rising illness toll.
Also check out CNN's H1N1 coverage, swine flu topics on Twitter and iReport's discussion on school closings.
Posted by: John D. Sutter -- CNN.com writer/producer
Filed under: Cars • climate change