Calling all iPhone owners anxious about the spread of swine flu: A potential app, the Swine Flu Tracker, may be on the way.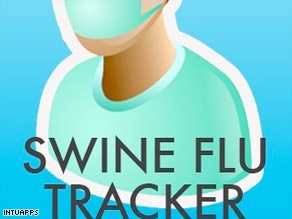 The Swine Flu Tracker, still pending approval from Apple, would be free. It was developed by IntuApps, whose founders, Barry Schwartz and Lilly Gold, say they want to keep people informed about the virus and where it is spreading.
"Just being able to have the information with you on the go is a powerful tool for people," Gold told CNN.
The Swine Flu Tracker's first tab shows the current threat level – Phase 5 – and brief description from the World Health Organization.
The next feature, likely the most useful, is a map that tracks where the virus is spreading in relation to the user via a "locate me" button. Each pin that pops up on the map offers details about confirmed and suspected flu cases. The data comes from a Google Maps RSS feed.
A third tab provides virus facts and flu symptoms from the Centers for Disease Control, Wikipedia and other sources.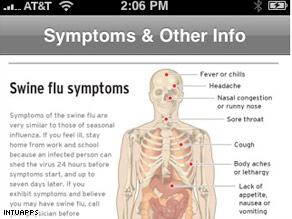 The last screen, Alerts, is a consolidated triad of Twitter updates from the World Health Organization, the CDC and HealthMap.
Schwartz submitted Swine Flu Tracker on Thursday and said Apple typically takes a week or two to approve new apps before they are released. Given the urgency of the swine flu outbreak, maybe they'll move more swiftly on this one.
"Hopefully the virus will end soon, but being informed is important for now and [for] trying to keep everyone healthy," Gold said.
Any iPhone user interested in downloading Swine Flu Tracker can leave a comment for Schwartz on his blog, CartoonBarry.com, and he will let you know when the app goes live.
Posted by: Valerie Streit -- CNN.com Producer
Filed under: Apple • iPhone