In today's Tech section I write about how "citizen scientists" around the world are collecting data that helps professional scientists do their research.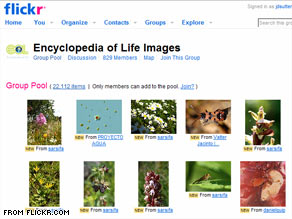 The movement is gaining steam as climate change and biodiversity loss ramp up. Especially with so much changing, scientists can't be everywhere.
Here are a few of the citizen science efforts I found interesting while I was reporting the story. It's by no means an exhaustive list, so feel free to tell us in the comments about other cool sites.
Squirrel sightings: http://www.projectsquirrel.org/
Bird photos: http://www.audubon.org/Bird/cbc/
http://ibc.lynxeds.com/users/josep-del-hoyo
http://www.birds.cornell.edu/citscitoolkit [includes a big list of citizen science sites ... thanks to Rick Bonney and a commenter for the link]
Ant anthologies: http://www.antweb.org/bayarea.jsp
All species: http://eol.org/
Water quality info: http://www.worldwatermonitoringday.org/
Beetle hunts: http://www.hort.cornell.edu/vlb/
Firefly tracking: http://sciencecheerleader.com/2009/04/firefly_day_this_saturday/
Toad enthusiasts: http://toadnuts.ning.com/ and http://bgis.sanbi.org/uploadyourtoad/
Posted by: John D. Sutter -- CNN.com writer/producer
Filed under: Animals • Birds • citizen science