The Windows 7: Release Candidate (RC) was officially published for public download this morning. The Release Candidate is a (mostly) finalized version of the software that has successfully completed beta testing and has potential to be a final product.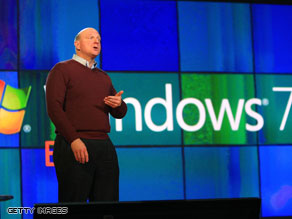 My download of the 2.36 GB DVD image file is currently speeding along at 3 MB/sec (thanks for the bandwidth, CNN!). It appears Microsoft has solved its distribution issues after demand for the beta version of Windows 7 crippled servers when it was released in January.
I first installed an earlier beta version of Windows 7 on my home computer in March, and, to my surprise, everything worked. There were no drivers to upgrade or software compatibility issues to resolve. Unlike my experiment with Vista's beta software that had me reinstalling XP several days later with less hair and a brimming swear jar, I am still running Windows 7  beta today and plan on upgrading to RC this afternoon.
Reviews of Windows 7 suggest that my experience may not be an isolated case.
Jeremy A. Kaplan at PCMag.com claims:
Quicker to install, more polished and customizable, and easier to use than earlier builds, the Windows 7 Release Candidate (build 7100) is a nice step towards finalization of the operating system.
Anyone is free to download and use Windows 7 RC until the temporary license expires June 2010. I don't recommend installing preproduction software on any computers used for critical applications. But if you're a tech enthusiast with a bit a time to spare I think you will be quite happy with this new version of Windows.
Any guesses as to how Apple will incorporate Windows 7 in its "Mac vs. PC" campaign?
Posted by: Wes Finley-Price -- CNN.com Webmaster
Filed under: Apple • computers • Internet • technology • Windows