Getting news these days is more work than it used to be.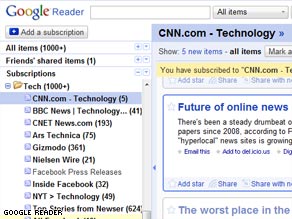 In times of old, reading the local newspaper was probably enough: you could get local, national and international news in one place, and it was neatly categorized by its perceived importance.
As yesterday's CNN.com story on "hyperlocal" news explains, that's changed. Now some publications focus exclusively on local happenings. Many news consumers turn to dozens of blogs, Twitter feeds, news stories and video links to get their daily fix. It's more work, but potentially there's more of a reward, too. For some, this is a sign the media is becoming more democratic: everyone gets a voice.
But for the reader, sorting through all of this online information can be a maddening and infinite task.
Enter the RSS reader, which brings headlines and scraps of information from your favorite sites to you in one place. But, as a recent Slate post suggests, there's a growing backlash against the RSS mindset partly because the interface is so artless. When you get all of your news through RSS, it all looks the same. There's no design flair, no prioritization of the content, no local flavor to the text-based feeds. It's like shoving the contents of all of your favorite boutique and thrift stores into a Wal-Mart-style warehouse.
Farhad Manjoo writes that his once-beloved Google Reader has become more of a chore than a pleasurable reading experience:
You know that sinking feeling you get when you open your e-mail and discover hundreds of messages you need to respond to—that realization that e-mail has become another merciless chore in your day? That's how I began to feel about my reader.
Other news sites point to further reasons RSS may be falling out of favor: The Guardian, out of the UK, suggests RSS is being overtaken by Twitter. TechCrunch offers up an obit for the service.
Manjoo, of Slate, points to a retro solution to RSS headache, which he pulled from the blog DesignNotes. The basic idea is to use browser tabs instead of RSS, to organize them into neat folders, and then to open them in groups. That way you can still see some Web design, and all of your news isn't shoved into a two-line, modular box. From the DesignNotes post:
... I bookmark blogs and place them in folders in Firefox that then become tabs that I can open. What that means is that within a couple minutes I can open between 35 – 60 blogs and sites ... My tab method is as follows. I've named them M1, M1B, M2 etc… the M1 is a bunch of blogs that I check out quite often during the day and as the folder numbers progress the less I check them out. The last folder (M5) is for new blogs and sites that I'm checking out. It's a test phase to see whether after a couple weeks if they'll make the cut to be placed in one of the other folders.
Now, I know how to make bookmarks (I even share some on Delicious), and I have 15 tabs open on this browser window alone, but I wasn't sure how to make bookmark folders that I could open in bulk. For those of you who are similarly clumsy with browsers, here's what you do in Firefox: open up a bunch of sites you want to put in a folder; from the Bookmarks tab, select "Bookmark All Tabs"; give the folder a name ("tech blogs" for example); then, when you want to see all of your favorite tech blogs, just pull up the folder, again from the Bookmarks menu, and select "Open All Tabs" from the bottom of the list.
And Shazam! All of your favorite sites in tabs. The major problem seems to be that this method can clutter your desktop. It's also a bit more difficult to constantly check to see when your favorite blogs have updated.
What do you think? Have RSS feeds, as DesignPosts says, become a "never ending chore?" There are plenty of RSS evangelists out there: what do you have to say? Any other methods for making online news faster and more fun?
I'm going to try out the tabs method this week and will report back on how it goes. Until then, jump into the discussion in the comments.
Posted by: John D. Sutter -- CNN.com writer/producer
Filed under: Google • Internet • RSS reader • technology