Online video is growing faster than a Chia Pet.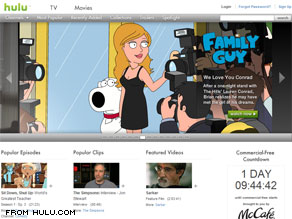 According to a recent Nielsen report, the number of American users frequenting online video destinations has climbed 339 percent since 2003, and time spent on video sites has shot up almost 2,000 percent over the same period.
Increased bandwidth, social networks, and sites such as Hulu and CNN.com Live that provide high quality web programming have all contributed to video's explosion onto the Internet. However, before you can say ch-ch-ch-Chia, some Internet Services Providers (ISPs) are threatening to spoil the party.
Time Warner Cable, Charter and Comcast have each tested data caps (or download limits) in certain markets. Fortunately, the caps, which have been called price-gouging by Ars Technica, met with resounding disapproval from consumers. Let's keep it that way.
Unlimited bandwidth is the driving force behind the internet's growth and development. If users begin to closely monitor their downloads to avoid data caps and overages, innovative sites that employ rich media and streaming video will be the first to suffer.
I don't get nostalgic when I recall the days of scrutinizing my AOL time limits, and I'm not looking forward to doing the same with my downloading.
Does your ISP limit your bandwidth? Do you believe the caps are necessary to maintain fairness by limiting excessive downloaders or are they strictly revenue generators for ISPs?
Posted by: Wes Finley-Price -- CNN.com Webmaster
Filed under: computers • file sharing • Hulu • Internet • online video • social-networking sites