Twitter is beefing up its search function - and in doing so the micro-blogging site is positioning itself as an alternative to Google.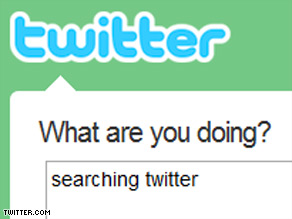 The newest update soon will allow Twitter Search to troll into the links people post and make that material searchable. This should mean better search results, which means Twitter becomes a more useful search alternative: you can see, in real time, what people are talking about, and which articles they're reading.
Currently the search only looks at word in the 140-character micro-blog, which somewhat limits the content it can pull up. A message that says "Cool article: LINK" wouldn't be very useful in the current search, for example.
As TechCrunch writes, the move doesn't mean Twitter wants to take Google down:
Of course there is no way Twitter Search will index as many pages as Google, but that's not the point. Twitter Search isn't meant to replace Google, that'd be dumb. At this point, no one is going to beat Google at its own game (you hear that Microsoft?). Twitter Search is meant to be a different kind of powerful search engine in its own right. A smaller, potentially curated, real-time search engine.
The speed of the search is part of what makes it so valuable, writes the UK's Telegraph:
Twitter plans to index the pages too, which is what Google does ...
This is expected to make it faster than Google, mainly thanks to the nature of tweets being speedy to send, as opposed to web pages, which are slow to build.
NYT breaks down the basics of the Twitter Search, for the uninitiated:
To find the Advanced Search, scroll to the bottom of any page at twitter.com and look for the link "Search" hiding there. Click it and you'll be taken to search.twitter.com. Click the Advanced Search link. I suggest bookmarking the Advanced page on your browser. There's another link there that lists all search operators, like "within:10mi."
If you're a big Twitter user you likely have noticed some changes to the interface. "Trending topics," the discussions that are getting the most buzz on Twitter, now appear on the site's right-hand rail, instead of only on the separate Search Page. You can click through the trending links to get a feel for what people are chatting about online. Twitter says these links "are a compelling if rudimentary way to explore a collective global consciousness."
Twitter now allows users to save searches, which can be useful for people who are interested in particular subject: coffee, environment, Atlanta, swine flu, free chicken - just for a few examples. To save a search: first search the term you're interested in, then click the "Save This Search" button just above the results, on the right.
What do you think of the Twitter Search? Is this big, or is it hype? It seems like the developments indicate another shift in the site, which, as TechCrunch says, may become more useful as an information aggregator than as way to connect to celebrities, etc. [Also worth noting, Twitter says it's not for sale - at least not right now. Scott Rosenberg makes an interesting point on his blog, Wordyard: he says innovation ends when cool tech companies go completely corporate].
Find more about the search directly from Twitter's blog.
Posted by: John D. Sutter -- CNN.com writer/producer
Filed under: Internet • technology • Twitter