The New York Times has a tech story today that's too interesting not to share.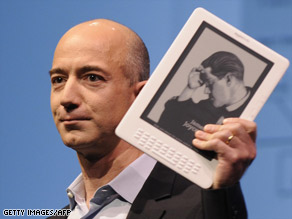 The paper says that the new, larger Amazon Kindle - which has been talked up as a savior for books and newspapers - has "a ways to go" when it comes to pronouncing some newsworthy words.
Chief among them: Barack  and Obama.
From what the paper says, the Kindle gives the president's name a sort of hard-vowel, Midwestern flair:
In particular, the voice of the Kindle mispronounces two important words that show up often in the pages of newspapers: "Barack" (the device rhymes it with "black") and "Obama" (sounds like "Alabama").
The science behind computerized voice features has come a long way, but apparently still has a ways to go.
This CNN story has more on how the voice technology works, and points out that a debate over rights for audiobooks has sprung up with the technology:
Today's synthetic voices can't match human talent (such as an actor hired to read audio books). But they do enable some interesting options.
For instance instead of having just one narrator, you can switch between voices, including male and female, as on the Kindle 2. You might not use this option, but it's there, and it will likely get better over time. Hemingway with a feminine touch, anyone?
The Kindle uses voice technology from Nuance Communications, which can create all kinds of voices. The Kindle gives users limited selection, but it's easy to imagine future reading devices offering a wide variety. Each voice lends its own effect.
Posted by: John D. Sutter -- CNN.com writer/producer
Filed under: Barack Obama • books • Internet