I don't own a netbook, but I do own a 5-year-old Dell Inspiron laptop. I like to think of my Inspiron as an "oversized netbook" simply because it makes me appear more trendy.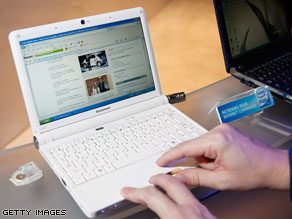 According to an April survey by Changewave Research, one out of every four computers purchased in the next three months will be a netbook. These small, inexpensive laptop computers are quickly becoming the latest hip accessory. Unfortunately, their bare-bones computing abilities make them about as useful as a chihuahua in a handbag.
In a TECH.BLORGE interview, Lenovo analyst Matt Kohut admits that netbooks may not live up to the expectations of some consumers.
Initially people weren't sure what to do with them. Retailers were saying, "here's this new netbook PC," and the average person picked one up and said, "oh wow, that's small, maybe I can run Photoshop." So, as an industry, we ended up with a lot of returns, because the functionality of what netbooks could do was not well communicated.
However, Kohut is upbeat about the future of netbooks. Second-generation netbooks are expected to have beefier computing power, run Windows 7 and offer 3G wireless capabilities, all while price points continue to drop.
So where is Apple's sleek, user-friendly netbook alternative? Apple CFO Timothy Cook told investors not to hold their breath at the company's quarterly-earnings call:
When I look at what is being sold in the netbook space today, I see cramped keyboards, terrible software, junky hardware, very small screens, and just not a consumer experience, and not something that we would put the Mac brand on, quite frankly.
However, Ars Technica isn't quite buying Cook's skepticism and points out that Apple always trashes an idea before doing it.
Even though they can't play games or edit video and often strain when loading YouTube, netbooks continue to sell. Do these low-priced Internet browsers fulfill an actual need, or are customers simply blinded by impossibly low prices?
Posted by: Wes Finley-Price -- CNN.com Webmaster
Filed under: Apple • computers • consumer tech • Internet • online video • technology