Twitter is all abuzz this morning with re-posts of this ReadWriteWeb blog, which says the micro-blogging site is clamping down on the way people converse.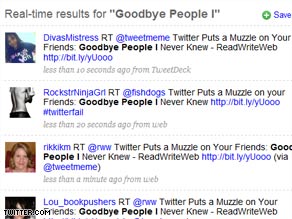 A piece of the blog's title - "Goodbye people I never knew" - has become one of the top 10 topics on Twitter today.
From Twitter's blog:
Based on usage patterns and feedback, we've learned most people want to see when someone they follow replies to another person they follow—it's a good way to stay in the loop. However, receiving one-sided fragments via replies sent to folks you don't follow in your timeline is undesirable. Today's update removes this undesirable and confusing option.
Twitter calls the change a "small settings update," but Twitter users seem upset about the move, saying that it cuts down on a common way to find new, interesting people on the site. More from ReadWriteWeb:
In what the company called a small settings update, users no longer see public replies sent by friends to people they themselves are not following. (Fragmented conversations, they are called.) This isn't a small change at all, it's big and it's bad. The new setting eliminates serendipitous social discovery.
Follow the live conversation here and here.
Also in Twitter news today, the site will shut down for an hour of maintenance at 2 p.m. ET. On the site this morning, people are also complaining of glitches.
Posted by: John D. Sutter -- CNN.com writer/producer
Filed under: Twitter