AirTran made a bunch of news yesterday for announcing that it will have Wi-Fi on all of its planes by summer.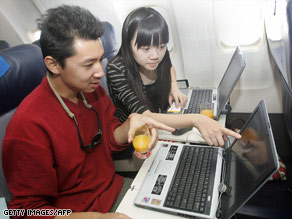 The airline claims to be the first to do this. But saying which airline is ahead of another in terms of mile-high Internet offerings is a bit dizzying. Virgin tells the Dallas Morning News that it will actually be the first to have an entire fleet of planes equipped for Wi-Fi. Virgin's fleet is much smaller than AirTran's, though. And Delta, which has more planes than either, may actually have more planes fitted with wireless Internet than AirTran by summer, but it's not the whole Delta fleet. American also jumped into the mix, according to engadget.
So that race is messy and tough to call. What's clear is that Wi-Fi is becoming a mainstream thing - and airlines are using the technology as a way to one-up each other. This wasn't always the case. A few years ago, the common thinking was that customers weren't willing pay extra for the service, according to news reports.
On the cultural side of this change, the NYT blog says airplane Wi-Fi means there's one less place you can go to disconnect from the Web:
So the actual service is uneventful; the real news here is the cultural ramifications. Used to be that the plane ride was the last remaining chunk of incommunicado time, the last place on earth where no BlackBerry buzzes and no e-mail comes in.

But not anymore.

Let's just look at the bright side: you still can't make cellphone calls on planes. Yet.
My big question while reading all of this was technological: Why does Wi-Fi work in a plane when flight attendants still ask passengers to turn off their iPods?
Thank you, Slate, for having the answer:
It [wi-fi] operates on a totally different frequency. Cell phones transmit signals at roughly the same frequencies as aircraft communications—pilot radios and radar range from below 100 to 2,000 MHz, and many phones operate at 850 MHz or 1,900 MHz. Your cell could therefore—at least theoretically—interfere with navigation. Wi-Fi, on the other hand, signals at a higher frequency—anywhere from 2,500 to 5,000 MHz—and thus won't get mixed up with the plane's transmissions.
In-flight Wi-Fi works like a moving Starbucks hot spot. The plane is rigged with three antennae—two on its belly and one on top—that receive signals from towers across the country. The frequency of those transmissions, 849 MHz, is within the range of airline communications. But they don't interfere with the plane's navigation, since 849 MHz is a dedicated frequency that was auctioned off and bought in 2006 by Aircell, which services American, Delta, and Virgin. (It's the same frequency once used by Airfone.)
Posted by: John D. Sutter -- CNN.com writer/producer
Filed under: Internet • Uncategorized