Thanks to those of you who offered remedies to my RSS stress, which I wrote about in a recent post.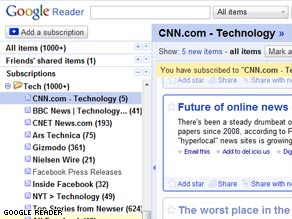 I think I've come to a solution that works for me. I pull up some sites I really love with tabs, just so I can see them and take in the feel of the site. Then I get a hearty dose of my online stories through an RSS reader. I took your advice and pared down some of the feeds (turns out, I had dozens too many). And - just to make it feel like less of a chore - I click "mark all as read" more frequently, so I don't have  to feel guilty about not getting to some stuff.
Here are a few of the comments I found useful.
John D. says RSS reader and Twitter overload are symptoms of our over-busy society:
RSS may have become cumbersome . . . but that is mostly because many of us are simply trying to follow too many things. I have two Twitter news services set up and some days they drive me nuts. Do I really want my mobile phone buzzing constantly because of news updates? No thanks! It buzzes enough with just my friends and their text messages. I will keep my RSS reader.
Justin B. says people need to decide what they really do and don't want to read
They haven't become a chore at all. I have the few that I really want to follow, and that's it. Sounds like the problem isn't that RSS is 'artless', more that people drown themselves in it and don't know how to delete the ones they don't really want or need.
Nick M. says the speed of the RSS reader is important:
it's not a chore to use Google Reader because i work hard to optimize my experience and weed out the feeds that don't deliver over time. saying that RSS feeds are dying is like saying that email's dying. yeah, there's an unglamorous side to reading everything as minimal text, but the content takes precedence in that format, and i get access to greater amounts of information and knowledge at a greater speed.
And, on the subject of Twitter replacing the RSS reader, Sean has this quip:
Personally I believe the Twitter backlash started the moment they started talking about it on the Today show. Soon a clever developer will come up with a new spin on the RSS feed. Maybe it will be something that collects your RSS, Tweets, Facebook updates, calendar, e-mail, online bookmarks, diggs, etc. and puts them into an interface that doesn't drive you nuts because of all the junk flooding in all the time. I know some developers have already tried, but I'm still waiting for the killer app that will make filtering all of this noise much easier.
Posted by: John D. Sutter -- CNN.com writer/producer
Filed under: online news • RSS reader