Wolfram Alpha, the much-anticipated online calculator and search engine, is set to launch for the public today at 4 p.m. ET.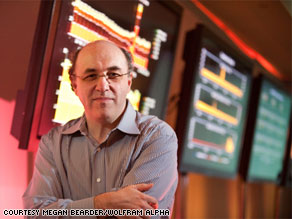 The site looks like a search engine but acts more like a giant calculator. It can crunch mathematical formulas, compare statistics and build charts based on online data that's curated by a team of scientists and mathematicians.
Some see Alpha as a major advancement in the search world, primarily because it does something Google doesn't: it creates new information, rather than just searching for what's already available online.
Check out this previous post for more information and for a CNN review of the site's pre-launch version.
And here's a recent CNN story about how this news fits into changes in the world of the search more generally. Several search engines are trying to supplement Google, rather than compete with the search king, which captures more than 60 percent of the market.
Of course, Google has some search news of its own, too, which appeared to be timed with news media buzz about Alpha.
Here's more from Alpha's creator, Stephen Wolfram. He writes in a blog that Alpha is a big advance for how well computers can think. But it's been a long and difficult process:
I wasn't at all sure it was going to work. But I'm happy to say that with a mixture of many clever algorithms and heuristics, lots of linguistic discovery and linguistic curation, and what probably amount to some serious theoretical breakthroughs, we're actually managing to make it work.
Pulling all of this together to create a true computational knowledge engine is a very difficult task.
I'd always thought, though, that eventually it should be possible. And a few years ago, I realized that I was finally in a position to try to do it.
When Alpha launches, take a look and let me know what you think. Which searches worked? Which didn't? Do you think the site is a useful supplement to major search engines like Google, Yahoo! and Ask? Is it being hyped?
Posted by: John D. Sutter -- CNN.com writer/producer
Filed under: search engines