As social networks continue to search for viable business models, "virtual currencies" are becoming more important.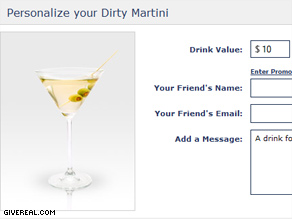 See today's CNN story for more on the subject. On a slight tangent, I thought I'd toss out a link to a cool site I encountered during my research (If you can call looking for neat Web sites research).
It's called Give Real, and you can use the site's applications in social networks to buy real-world drinks for your friends - no matter if you're at a sports bar in Cleveland and your friend's at a techno club in California.
Functionally, it seems a little clunky. You select a drink, determine its price and write a note for your friend - like a proposed toast or something along those lines. Then you pay for it with a credit card and the drink goes to your friend's e-mail, where they must enter credit card information in order to get a credit that will let the friend redeem the drink wherever he or she would like.
Here's a how-to guide from the site for a bit more of an explanation.
And more from TechCrunch on that point:
Once your friends already have cards in the system the process is much easier, but I question if my friends would readily enter their credit card numbers to redeem their gifts in the first place (then again, people will go through a lot for a free drink).
Still, it seems like it could be a fun tool if, say, your friend is getting married or graduating from school and you can't be there. The idea is also interesting conceptually: many social network apps create currencies so you can buy virtual gifts (pixel T-shirts and the like), but this app lets you give your online friends something tangible. The drinks exist in the real world, not just as pictures online - which, if you're a drinker, is probably important.
What do you think? If you try the site, let me know how it goes in the comments section.
Posted by: John D. Sutter -- CNN.com writer/producer
Filed under: Internet • social-networking sites