For a decade, the computer program has searched the skies for extraterrestrial voices. Hundreds of thousands of volunteer home computers have analyzed the data, according to a news release.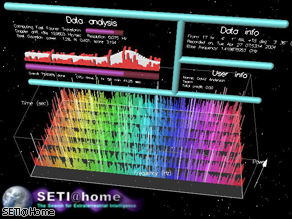 But no alien signals have been heard in the 10 years SETI@Home (Search for Extraterrestrial Intelligence) has been operating.
SETI uses the Arecibo telescope in Puerto Rico to record radio signals from the sky. Those signals are broken down and sent to home computers, which help analyze the data.
Here's more on how the project works, from the SETI@Home Web site:
One approach, known as radio SETI, uses radio telescopes to listen for narrow-bandwidth radio signals from space. Such signals are not known to occur naturally, so a detection would provide evidence of extraterrestrial technology.

Radio telescope signals consist primarily of noise (from celestial sources and the receiver's electronics) and man-made signals such as TV stations, radar, and satellites. Modern radio SETI projects analyze the data digitally. More computing power enables searches to cover greater frequency ranges with more sensitivity. Radio SETI, therefore, has an insatiable appetite for computing power.
In the 10 years that SETI has been active not a single extraterrestrial signal has been heard.
This could lead us to believe that maybe we are truly alone in this vast universe. No one knows for sure, of course. The debate has intensified since the Roswell incident of 1947.
Arguments can be made against spending money and time in search of other life in the universe. The money spent on funding the SETI project that could have been put towards fighting hunger or doing cancer research, for example.
On the flip side, our universe is extremely large and the time it takes radio signals to travel can take many years for them to make it to Earth if they are coming from another planet or spaceship. Ten years just isn't enough for us to examine what could be out there.
What are your thoughts on SETI?
Posted by: CNN's Christopher Piatt
Filed under: Space