Music producer Danger Mouse wants you to download his album illegally. He is even going to sell you the blank CD-R to burn your ill-gotten tracks.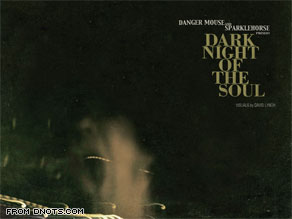 The "Dark Night of the Soul" book with blank CD-R ships May 29th, and the album again raises questions about how Internet technology can be used to distribute music - and what is or isn't ethical about the process.
DJ Danger Mouse, who is half of the pop group Gnarles Barkley, began stepping on record label EMI's toes in 2004 when he utilized internet outlets to distribute his self-published "Gray Album," which mixed songs from Jay-Z and The Beatles.
EMI, who owned rights to The Beatles' content, attempted to block the album, but people online responded by creating "Gray Tuesday," an organized protest where participating Web sites posted the unlicensed songs for public download. Now EMI is again attempting to prevent Danger Mouse from releasing "Dark Night of the Soul," but he's not one to let a legal dispute keep music from his fans.
A spokesperson for the DJ said: "Danger Mouse remains hugely proud of 'Dark Night of the Soul' and hopes that people lucky enough to hear the music, by whatever means, are as excited by it as he is."
Danger Mouse is still releasing "Dark Night of the Soul," but instead of a 13-track album the case will include a 100-page book of David Lynch photographs and a blank CD-R that is labeled: 'For Legal Reasons, enclosed CD-R contains no music. Use it as you will.'
Legally, fans can hear music from "Dark Night of the Soul" streamed on NPR Music. I listened to it last night and was impressed, but will anyone buy this new album when the music is already freely available?
Posted by: Wes Finley-Price -- CNN.com Webmaster
Filed under: file sharing • Music • piracy